Fox Business' Eric Bolling Says President Obama Was 'Chugging Forties' Instead Of Going To Joplin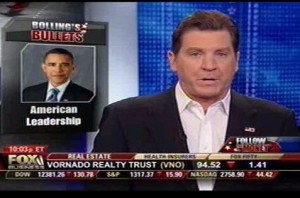 Fox Business host Eric Bolling really stepped in it Monday when, in the middle of a rant about a lack of leadership, he said that President Obama was busy "chugging forties" in Ireland, instead of going to tornado-ravaged Missouri. "Forty" is slang for a 40 oz. bottle of malt liquor (or beer), a mainstay of ghetto iconography. Bolling later tweeted defiantly, "For the liberals offended by my "forty" comment, please read this….," linking to a slang dictionary. According to pool reports, the President drank most of a pint glass, which, in Ireland, is about 20 oz.

Earlier in Bolling's rant, he also made a reference to the President "entertaining rappers" in the White House, a reference to the feigned outrage over rapper Common's invitation to a poetry reading.
As if Bolling hadn't trotted out enough stereotypes, he then played a clip of President Obama's limousine (a Cadillac) bouncing along like a pimped-out lowrider.
Okay, that last one was a joke, but Bolling's reference to "forties" was clearly offensive, and his explanatory tweet didn't really clear anything up, except the fact that he was definitely referencing a sensitive touchstone in black culture. For some reason, Bolling thinks only liberals will be offended by what is either a tone-deaf gaffe, or a conscious attempt to marginalize the first black President with a degrading stereotype. The "forty" has long been controversial in the black community because of its typically higher alcohol content, lower price, and the way it has been marketed, all of which are seen as encouragements to alcoholism.
As for the tornadoes in Missouri, President Obama was already en route to Ireland when they hit, but issued the following statement that night: (via White House email)
Michelle and I send our deepest condolences to the families of all those who lost their lives in the tornadoes and severe weather that struck Joplin, Missouri as well as communities across the Midwest today. We commend the heroic efforts by those who have responded and who are working to help their friends and neighbors at this very difficult time. At my direction, FEMA is working with the affected areas' state and local officials to support response and recovery efforts, and the federal government stands ready to help our fellow Americans as needed.
See? Some presidents can actually chill wit' their rappin' homiez, drank some fawties, and still get FEMA where they need to be, when they're needed.
(h/t MMFA)
Have a tip we should know? tips@mediaite.com