Fox Completely Loses Sense of Humor over Obama's Between Two Ferns Video
Wilstein: Fox News Loses Sense of Humor over Obama's Between Two Ferns Video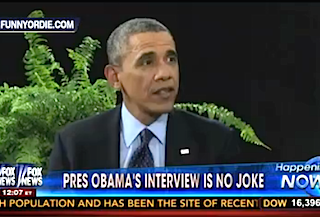 While President Barack Obama's episode of Between Two Ferns with Zach Galifianakis was openly a youth pitch for Obamacare, it had a great deal of jokes for people of all political stripes to find amusing. And yet, much of Fox's Tuesday programming on the video seemed to think there was literally nothing funny about a comedian and a president snarking about various matters.
The video had been live on FunnyorDie.com for an hour before the hosts of Fox & Friends deigned to weigh in on it. And unlike the vast majority of people who watched the video online, they did not find anything funny about it.
"Who recommended he do this?" Brian Kilmeade asked in disbelief. "The deadline to sign up is three weeks away, should the president of the United States doing this?" He said "it's so inappropriate" for "the president of the United States to be sitting down doing an interview that's a mockup."
"Some would argue it's inappropriate for the president of the United States to be advertising a law," Elisabeth Hasselbeck added.
But the real kicker came at the end of the segment when Kilmeade said, "I think it's pretty tragic. Whoever recommended that he do that show should be fired."
Watch video below, via Fox News:
Things got even more stark a few hours later on Happening Now, when host Jenna Lee introduced a clip of the video with the chyron "PRES OBAMA'S INTERVIEW IS NO JOKE" blasted across the bottom of the screen.
While The Weekly Standard's Michael Warren boldly admitted that he found the video funny, he did not see it as an effective promotional tool. "I just don't see how young people are going to watch this and then go sign up at HealthCare.gov," he said. "They're probably going to do what I did, which is I went and watched another Zack Galifianakis comedy video."
Roll Call's Shira Center mostly agreed, saying she found the video funny but thought the White House should be careful not to "cross that line of kind of demoting the office to an unserious nature." She said "this very appearance goes right up to that line, maybe dances on it, tiptoes on it and then comes back."
Watch video below:
And if you thought that was bad, wait until you see how the hosts of Fox's The Five reacted a few hours later. "So the world is on the verge of mayhem," Eric Bolling began. "Vlad Putin flexing his military muscle. Kim Jong-un got 100% of the North Koreans. We lost 239 people in a airplane over Vietnam, vanished. And the what is the leader of the free world doing?"
"I like that kind of humor," Dana Perino added. "I just don't like it for the president. I don't think they set him up for success, I don't think he knew what he was getting into. If you're going to be on a comedy program, make the choice to use the president's time for that, you have to hit one out of the park. Otherwise, you're going to be ridiculed."
Greg Gutfeld and Andrea Tantaros agreed, with all four hosts ranting against the video for close to 12 minutes straight. The only voice of reason was Bob Beckel, who rightly said Obama "needs younger people to sign up. This is a hip program, and the people who watch it are the people he needs to sign up."
Watch video below:
The hypothesis that all these Fox personalities have in common when it came to the Between Two Ferns episode is that even if you think it's a humorous piece of comedy, it won't do anything to help the Affordable Care Act. But rather than firing whoever it was who spearheaded the Funny or Die effort, President Obama is more likely to promote them.
As of mid-afternoon on Tuesday, the video has 5.6 million views on Funny or Die, which would be impressive enough, but far more importantly it is apparently driving some real traffic to HealthCare.gov. The link to the Obamacare website is right there in the description for the video and, according to Tara McGuinness, the White House senior communications advisor on health care, FunnyorDie.com is the "#1 source of referrals" to the site today. Press Secretary Jay Carney reiterated this fact during his briefing today, and as Fox's Ed Henry said with a bit of dismissiveness, "they already think it's been a success."
Of course, as many Obamacare opponents are likely to point out, the real test will be if all those young Funny or Die fans actually take the next step and sign up for insurance plans through the website's exchanges. But getting this many people to watch the video and then at least check out HealthCare.gov is already an unqualified victory for the Obama administration. And, in the process, Obama got to prove that he's got the comedic chops to sit with Zach Galifianakis.
But if conservatives on Fox can't appreciate that aspect of the video, you would think they would at least be able to appreciate Galifianakis' jokes at Obama's expense. They loved it when Jay Leno made jokes about the Obamacare website, so how could they not love Galifianakis asking, "Why would you get the guy who created the Zune to make your website?" Or what about when he asked, "Where are you planning on building your presidential library, in Hawaii or your home country of Kenya?"
Maybe it's because Galifianakis didn't mention Benghazi.
Just wait until Bill O'Reilly gets his hands on this video later tonight. If he has such a big problem with Beyoncé of all people, just imagine how he might feel about Galifianakis.
If you are not one of the millions of people who have already watched the Between Two Ferns video, you can see below in its entirety, via Funny or Die:
[photo via screengrab]
— —
>> Follow Matt Wilstein (@TheMattWilstein) on Twitter
Have a tip we should know? [email protected]