Fox Contributor Suggests Al Jazeera's American Expansion Could Activate Muslim Sleeper Cells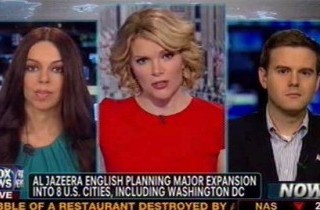 Megyn Kelly welcomed a panel of guests to Fox News Wednesday afternoon to discuss the latest development in Al Jazeera's attempts to expand its news coverage to the United States. After purchasing Current TV from former Vice President Al Gore, Al Jazeera has announced that they will be creating bureaus in eight major U.S. cities for their new Al Jazeera America cable news network.
After mentioning that Al Jazeera was accused of supporting terrorism after 9/11, by Fox News and others, Kelly introduced Mideast journalist and Fox contributor Lisa Daftari, a columnist for David Horowitz's conservative FrontPage Magazine.
Daftari acknowledged that "because there's no other outlet that is providing foreign news" like Al Jazeera "the audience that is looking for this type of coverage is going to be watching." She added that unlike right after 9/11, it's now considered "Islamophobic" to criticize Al Jazeera and "they're going to play upon that and feed right into this where the left is completely going to support them and allow them to have a voice."
Later in the segment, Daftari made a bold prediction about Al Jazeera's plans, suggesting possibly ulterior motives of the organization. "They're apparently expanding to eight cities, including Detroit, Michigan. Detroit, Michigan is a large ex-pat community of Muslim-Americans and sleeper cells have been detected," Daftari said. "So if you're trying to set yourself apart the Qatari petro-dollars are backing this, you're still developing in this area where the sleeper cells have been detected."
Conservative radio host Guy Benson, however, offered some defense of Al Jazeera's First Amendment rights, holding back on criticism until he sees what programming eventually appears on their American channel. But judging by what he's seen on Al Jazeera Arabic, including a program called "Sharia In Life," he does not have particularly high expectations. He also shared concerns over how much influence the Qatar government "bank rollers" will have over the editorial voice of the network, given their "authoritarian" politics.
Ultimately, the segment asked a simple question: Are there any sketchy motives behind Al Jazeera's American expansion, or is the organization simply attempting to bring their unique brand of international news to an American audience?
Watch video below, via
—
>> Follow Matt Wilstein (@TheMattWilstein) on Twitter
Have a tip we should know? [email protected]
---