Fox News: Airing Old CPAC Footage Showing Crowd Booing Ron Paul Was A "Mistake"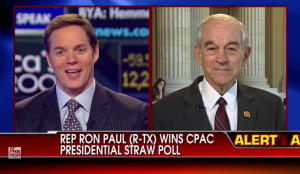 This weekend, Rep. Ron Paul won the straw poll at this year's CPAC the second consecutive year. However, when he was interviewed about victory during America's Newsroom on Fox News, yesterday, they aired the clip of his announced win in 2010 in which there is a significantly higher amount of booing from the crowd. Fox News tells Mediaite that this was a mistake and that they will be issuing an correction on America's Newsroom tomorrow morning. It is unlikely this explanation will satisfy Paul supporters who seem to believe the network tried o disguise how much support the congressman has amongst the GOP base.
In both years, CPAC pollster Tony Fabrizio can be seen announcing Paul as the winner while wearing a dark suit and a light blue shirt. However, in the 2010 video, the booing is much more pronounced, forcing Fabrizio to vocally address it, raising his hands and trying to calm the attendants with a "Now…" During the 2011 announcement, the cheers and boos seemed much more equal (not to say that he didn't get a lot of boos again this year, they just weren't as easily distinguished).
Yesterday, Fox News aired the 2010 footage and incorrectly identifies it as 2011. Bill Hemmer then begins his interview with Paul by asking him about the booing. Once the error was noticed, Paul fans quickly took to the Internet, flooding YouTube with video proof of Fox News' "deception." However, Fox News claims it was completely accidental. Mediaite received the following statementfrom Senior Vice President of News Michael Clemente:
"We made a mistake with some of the video we aired, and plan on issuing a correction on America's Newsroom tomorrow morning explaining exactly what happened."
Considering the similarities in Fabrizio's outfit as well as the fact that there are plenty of videos from this CPAC that feature a healthy amount of booing, it's certainly plausible that Fox News merely made a mistake in pulling up the wrong video. Not knowing how their digital footage storage works, we won't make a guess either way. However, it might be hard for Fox News to regain the trust of many ardent supporters of Rep. Paul.
Below is the footage of the 2011 announcement from C-Span's live feed followed by the Fox News clip with the 2010 footage and Paul's interview:
Have a tip we should know? tips@mediaite.com