Fox News Continues Caravan 'Invasion' Coverage Two Days After Man Fearful of Immigrants Killed 11 in Synagogue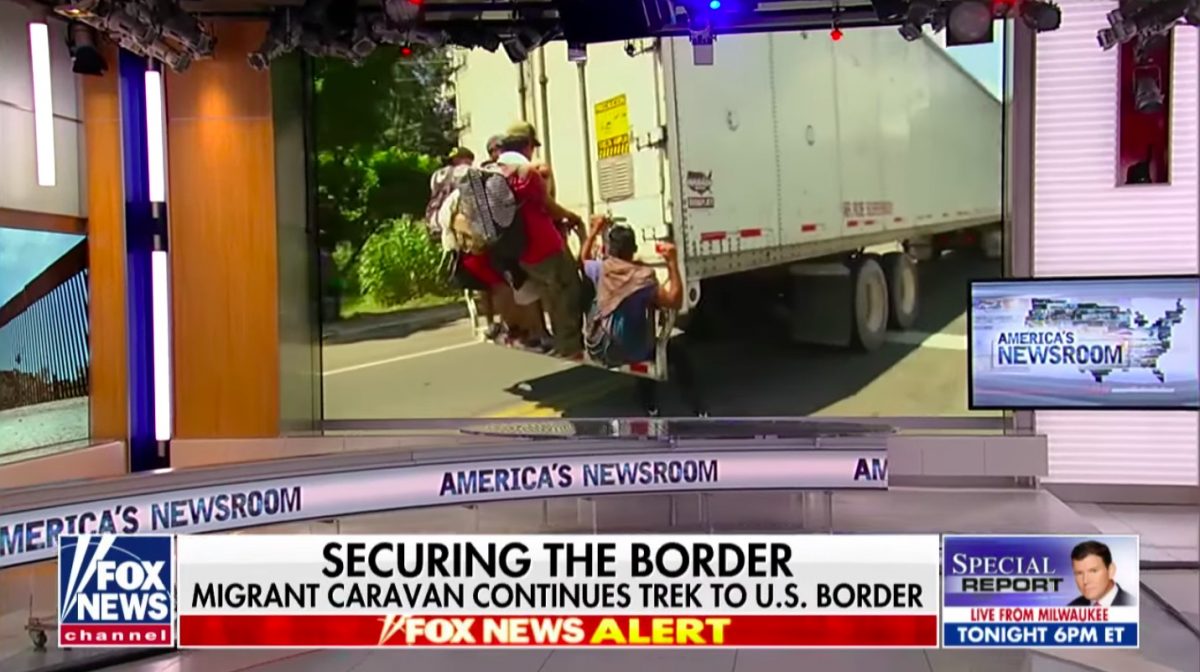 Depending on the reports from the field, there are currently anywhere from 3,500 to 7,000 Central Americans near the Mexico-Guatemalan border, very slowing making their way towards the U.S. Southern border, which is over 1,000 miles away. It's not clear many will even complete the trip.
This caravan of migrants has been described as a great threat to national security by President Donald Trump, who has admitted he has no proof in his claim there are "Middle Easterners" amongst this group, in an ugly xenophobic suggestion that somehow terrorists are looking to enter the United States after first walking, for six weeks, the entire length of Mexico.
Just today Trump tweeted:
Many Gang Members and some very bad people are mixed into the Caravan heading to our Southern Border. Please go back, you will not be admitted into the United States unless you go through the legal process. This is an invasion of our Country and our Military is waiting for you!

— Donald J. Trump (@realDonaldTrump) October 29, 2018
NPR's Steve Inskeep did some actual reporting on the issue today and learned from Mexico's ambassador to the United States that the threat posed by the caravan is not as great as others are reporting
Just interviewed Mexico's ambassador to the US, Geronimo Gutierrez. He used smaller numbers for the caravan – not 7,000, as often reported, but 3,500. Says many of the 3,500 are accepting Mexico's offer of asylum, leaving fewer determined to seek entry to the US. @MorningEdition

— Steve Inskeep (@NPRinskeep) October 29, 2018
Over the past few weeks, Fox News has loyally amplified the threat posed by this group, with hourly caravan coverage, presenting it as an existential threat.
During an interview with DHS Secretary Kristjen Nielson, Fox News host Martha MacCallum asked if the military being sent to the border would "shoot" at these immigrants. It was one of the many examples of absurd fear-mongering at play.
Last week I wrote a column that called out Fox News for overplaying the threat this group of migrants present as naked fear-mongering to gin up a pro-Trump base of voters in the coming midterm elections. Former Trump campaign official Barry Bennett apparently agreed, calling the caravan a "political gift" because of how the optics play to a conservative base.
Cut to the horrible tragedy that unfolded this weekend at the Tree of Life synagogue in Pittsburgh, which took 11 worshipers lives. It turns out that the shooter was a fervent believer in the misguided theory the caravan was an "invasion" of the American homeland.
The unhinged anti-Semite posted his fears about the caravan on social media. "I have noticed a change in people saying 'illegals' that now say 'invaders'," he said in one post, six days before the shooting. "I like this."
Describing the mass of impoverished migrants walking over 1,000 miles to the US border as an "invasion" makes no sense. But if it sounds familiar, it's because that same phrase has been used by Fox News pundits regularly, including just a day before the synagogue massacre took place.
During a visit to Trump's favorite TV show Fox & Friends, Michelle Malkin called the caravan a "full-scale invasion." Fox News host Laura Ingraham called it a "slow-rolling invasion of the United States" on her prime-time show.
In the event one might think Fox News would pull back on caravan "invasion" coverage after the shooting, think again. Just Monday morning, America's Newsroom featured border agent Art Del Cueto, who warned of an "invasion." And that was actually the second time on that very show in which that term was used — it was first dropped by Thomas Homan, acting director of ICE. Fox & Friends host Brian Kilmeade fretted over whether migrants would bring in "diseases."
Amid the various caravan reports, there has also been the unfounded suggestion that this group of migrants was being funded by Jewish billionaire and conservative bogeyman George Soros. Last week Fox & Friends co-host Steve Doocy amplified comments made by Rep. Matt Gaetz, in which the Florida Republican called for an investigation into whether "U.S. backed NGOs, or George Soros were behind the caravan."
And of course, there is the case of Lou Dobbs and the director of Judicial Watch, Chris Farrell. On Thursday's episode of the Fox Business Network show, Farrell baselessly claimed that the migrant caravan in Mexico is being funded by the "Soros-occupied State Department," echoing an anti-Semitic conspiracy theory. Fox Business has since condemned these comments and pulled the episode.
The synagogue shooter has been rightly derided for calling the caravan an "invasion," but when such hateful and fear-mongering language is being promoted and legitimized by the most watched cable news outlet in the country, it doesn't seem so crazy.
The constant coverage of the caravan as an immediate crisis that merits military being sent to the border is beyond foolish. There is no immediate threat presented by this group — which, again, is 1,000 miles from the border, shrinking in size, and not likely to reach the U.S. for weeks — and to suggest to as much is dangerous and irresponsible fear-mongering. Need an example of just how dangerous and irresponsible it is, take a look at the weekend massacre in Pittsburgh.
One might expect that, in light of the tragic events that took place at the Tree of Life synagogue, Fox News might pause its non-stop caravan coverage in favor of self-reflection. But that's not the case: since the shooting on Saturday, the "caravan" has been mentioned 128 times, per transcription service TVEyes.
The sheer amount of coverage that the caravan has received on Fox News and the manner in which it has been presented (as a real threat) is simply shameless. Especially in light of what appears to have been the motivation behind the gunman.
Writing for The Atlantic, Adam Serwer put it best:
Before committing the Tree of Life massacre, the shooter, who blamed Jews for the caravan of "invaders" and who raged about it on social media, made it clear that he was furious at HIAS, founded as the Hebrew Immigrant Aid Society, a Jewish group that helps resettle refugees in the United States. He shared posts on Gab, a social-media site popular with the alt-right, expressing alarm at the sight of "massive human caravans of young men from Honduras and El Salvador invading America thru our unsecured southern border." And then he wrote, "HIAS likes to bring invaders in that kill our people. I can't sit by and watch my people get slaughtered. Screw your optics, I'm going in."

…

The Tree of Life shooter criticized Trump for not being racist or anti-Semitic enough. But with respect to the caravan, the shooter merely followed the logic of the president and his allies: He was willing to do whatever was necessary to prevent an "invasion" of Latinos planned by perfidious Jews, a treasonous attempt to seek "the destruction of American society and culture."

The apparent spark for the worst anti-Semitic massacre in American history was a racist hoax inflamed by a U.S. president seeking to help his party win a midterm election.
To be clear, of course, Fox News is not responsible for the horrible actions that occurred in Pittsburgh this weekend. They are responsible, however, for sowing discord and naked fear-mongering through the near-constant portrayal of migrants over 1,000 miles away as an "invasion."
And it's time for some serious self-reflection at Fox News. Otherwise, more and more reasonable people will start to agree with the advertiser boycott that is starting simmer.
This is an opinion piece. The views expressed in this article are those of just the author.