Fox News' Steve Harrigan Tries To Have It Both Ways Over 'Libyan Propaganda'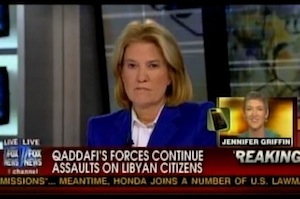 Yesterday, Fox News' Jennifer Griffin reported that pro-Gaddafi forces had successfully thwarted British Air strikes by using Western journalists from CNN and Reuters as human shields. This spawned an angry response from CNN's Nic Robertson who called the report "outrageous" calling out Fox News for "lies and deceit." But last night, while Griffin doubled down on her earlier report of "human shields," she did admit that FNC had sent someone to gather footage of a bombed compound. This, after Fox News' Steve Harrigan had derided this as "pretty much propaganda." Oops.
First some background: Griffin's initial report came mid-day yesterday, and was not only picked up by many news outlets and aggregators (including Mediaite) but was also reported by Sky News' Niall Paterson roughly 30 minutes prior to Griffin's report. Robertson's then appeared at the top of the 6pm hour of The Situation Room , and passionately criticized Griffin's report, which Mediaite's Mark Joyella described:
A visibly angry Robertson said "when you come to a place like Libya, you expect lies and deceit from a dictatorship…you don't expect it from the other journalists." Robertson said that while Fox News reported that its journalists skipped the "propaganda trip" Sunday night, the network did send someone with a camera. "He, this member of this Fox team was surprised that he was being sent," said Robertson. "And the idea that we were some kind of human shields is nuts."

Robertson described Fox's correspondent in Libya, Steve Harrigan, as someone he's known for many years, but then slams him, saying Harrigan is a correspondent "who very rarely leaves his hotel." Robertson said he went on the short trip Sunday because "we're news professionals and we want to see it for ourselves."
Griffin appeared back on Fox News during the 10pm hour which seemed in some respects to be a response to Robertson's slam. She doubled down on her report that the air strikes had been scrubbed after coalition forces watched live reports from journalists reporting from the very compound that was being targeted by British Tornadoes. She did hedge in some tiny respect, reporting of "consternation among Coalition forces about having to call off the strikes," adding that "they had felt that the civilians and journalists had effectively been used as human shields" (emphasis mine.)
Sources familiar with the situation have confirmed to Mediaite Griffin's report – that civilians (and journalists) were at the location targeted by British forces. Whether or not the presence of non-military individuals, including civilians and journalists, was meant to be a "human shield" or not will likely never be known for certain. Perhaps its best to just focus on the fact that no one was injured.
But this did not seem to be the source of Robertson's anger with by Fox News. Earlier in the day, Harrigan had called out reporters who took a bus trip to the compound in question, specifically saying that the Libyan Ministry of Information "organize trips almost every day at best…pretty much propaganda," adding "We decline to get on the bus to go over there…Not a lot of trust for us where they are taking us or what the intentions are."
This sort of report represents a pretty damning critique of other journalists who chose to report on the destruction, and it appears, the real reason for Nic Robertson to have become so angry. Especially since it now appears that, as Robertson reported on The Situation Room, Fox News sent a non-journalist staffer with a camera to get the same footage as well. Yes, Harrigan dismissed journalists who went to cover the bombed compound as "propaganda," while simultaneously sending a security staffer to collect the footage.
As you can see in the following clip, Griffin came back on Greta in a second hit to confirm that Fox News had sent staffer with a camera, a fact she states of which she was unaware. So it appears that it wasn't the "human shield" comment that raised Robertson ire, but rather Harrigan tried to have it both ways over alleged "propaganda." It also seemed odd that, during the second Griffin appearance, she wasn't asked any questions at all, making it feel much less like reporting, and much more like corporate clarification.
Watch both clips edited together below, courtesy of Fox News:
Have a tip we should know? tips@mediaite.com
Colby Hall - Founding Editor