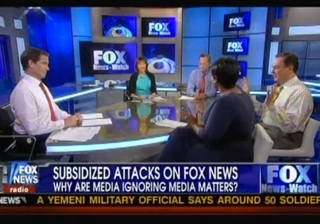 It appears that Fox News is not ready to take Media Matters' "victory lap" over Glenn Beck's departure this week lying down. In fact, half of today's Fox News Watch was dedicated to MMFA's "guerrilla warfare," and questioning whether their tax-exempt status was fair given the feud. Are tax-exempt groups allowed to "declare war" on news agencies?
After a primer on what Media Matters has been up to by Fox's James Rosen, the Fox News Watch panel dove into tearing apart the argument that the organization merited tax-exempt status. "It described its purpose as charitable and educational," host Jon Scott noted, but then showed the differential between how many MMFA stories were on Fox vs. every other network: 2,670 on Fox this year, 66 on CNN, and 48 on MSNBC. Panelist Judith Miller called MMFA's mission "the worst-kept secret in America," arguing that since Politico published comments by Media Matters' founder David Brock that he was going to launch "a guerrilla war on Fox," they lost their good will. "Why should a guerrilla war be funded by taxpayers?" Fellow panelist Jim Pinkerton echoed the sentiment: "Guerrilla war and sabotage, is that what charities should be doing?"
Media Matters did not get universally attacked for its bias, however– panelist Jehmu Greene argued that it was entirely legal for nonprofits to have political biases, citing the Heritage Foundation and AEI as examples, as well as the Media Research Center, which many consider to be the right-wing version of Media Matters. "This isn't just about Media Matters," she argued, as both MMFA and the MRC "are doing the same thing." "We need this vibrant marketplace of ideas," she concluded, though the rest of the panel disagreed on taxpayers' dollars being used to fund such an institution.
The panel then went on to continue their analysis for another segment, in which they delved into the specific IRS rules and the organizations that have been refunded for, as Pinkerton labeled it, "going off the rails" from the legal objectives necessary to receive tax-exempt status, and the role of, of course, George Soros in funding Media Matters. Scott also notes the feud between Beck and Media Matters, and how Color of Change and the Democracy Alliance joined Media Matters against him. Yes, it is 4th of July weekend, but one imagines these are two segments of vacation the Media Matters office can wait to vacation for.
The segments via Fox News below:

Have a tip we should know? tips@mediaite.com