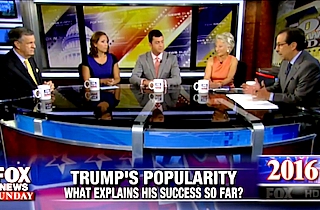 A Fox News Sunday roundtable roundly criticized celebrity plutocrat Donald Trump for his comments dismissing Senator John McCain's (R-AZ) war heroics.
Fox's reaction will be closely watched, as the network largely defended Trump after outrageous comments about undocumented immigrations.
NewsCorp owner Rupert Murdoch tweeted last night that Trump's comments were an embarrassment to the country, something largely echoed by the panel.
"A lot of Trump fans said, 'I like Donald Trump, but this is beyond the pale,'" Fox contributor Brit Hume reported. "He needs to apologize. It remains to be seen if he's got sense enough to do it."
'Disgraceful': Trump Gets Savaged on Twitter––Especially by Conservatives––over McCain Comment
"Donald Trump's a clown," said Heritage Action leader Michael Needham, adding very arguably that Trump was riding the same wave of establishment disaffection that was floating Democratic challenger Bernie Sanders' campaign. "He needs to be out of the race. But someone else who's serious needs to step up and start channeling the voice of very frustrated American political voters. (Needham, one of the architects of the 2013 government shutdown, is referring to Senator Ted Cruz (R-TX) here.)
"Trump refers to these people as the silent majority," Hume said, of disaffected right wing voters angry at the GOP establishment. "What I would say about them is they're not a majority, they're not silent, and I'm not sure how many of them there are." (Needham disagreed.)
"Trump is getting what he wants, because you're leading with this story on your show, rather than Iran, which was the really big story of the week," former Democratic representative Jane Harman said.
Watch below, via Fox News:
[Image via screengrab]
——
>> Follow Evan McMurry (@evanmcmurry) on Twitter
Have a tip we should know? tips@mediaite.com