Fox Reporter Emily Miller Under Fire for Allegedly Fabricating Home Invasion Details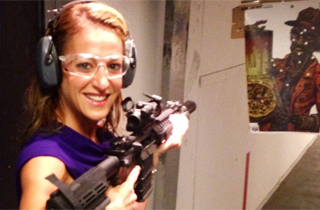 Emily Miller is the chief investigative reporter for DC news station WTTG-TV (Fox 5). She's known for two things: doggedly chasing after the District's corrupt politicians, and being a strident advocate for the individual right to bear arms. But according to a new investigation, the incident that made her a pro-gun activist, in which she cast herself as the victim of a home invasion, possibly never happened.

In an extensive report, The Washington Post found that in speeches to pro-gun groups and rallies, Miller claimed that in 2012, a man — a drug addict in some accounts, a sketchy gang member claiming to be a pool cleaner in others — had broken into her home and was in the middle of robbing her when she came home and encountered him. On the basis of this account, Miller successfully applied for a gun-carry permit in D.C., saying that she was in "special danger" and cited "two different threats against me, which I had documented with police reports."
But according to a police report obtained by the Post, the event went something like this:
Instead, Miller spotted someone leaving the property as she returned from walking a dog.

"[Miller] stated that she left out to walk the dog at 1515hrs and when she returned at 1525hrs she observed [the suspect] exiting from behind the fence which leads to the side of the house. [Miller] asked [suspect] 'What are you doing here' and [suspect] stated 'I am delivering firewood,'" according to a supplemental D.C. police report…

"[Miller] stated that she was contacted by her credit card company at 1945hrs about some fraudulent charges on her credit card. [Miller] stated that she checked her purse and noticed that her Visa credit card and $50.00 in US Currency was missing. [Miller] stated that while she was out walking the dog she had left her purse on the counter in the kitchen of the offense location."
"A common understanding of 'home invasion' is a terror-laden crime in which intruders burst into a residence and (in most cases) do bodily harm to the occupants," they contextualized.
-RELATED: FBN Hosts Call Out Emily Miller for Supporting Liberty on Guns but Not Weed
The report also mentioned that Miller, who was living on the property and whose job included walking the home owner's dog, had left the door unlocked. The police report certainly doesn't sound like this version of the account, published in the Washington Times, in which she claimed that she had encountered an actual gang of mobsters:
After the man left, I was still suspicious so I went inside, grabbed my Blackberry and clicked on the icon for the camera. I walked down the street, and as I turned the corner, I saw about 15 scruffy young men standing around two pickup trucks. We were at the end of a woody, dead-end road.

I nervously held up my Blackberry to take a quick photo of them and the license plates. Suddenly, the blood-shot-eyed guy darted out, blocking the shot. "What are you doing?" he asked. I looked around at all the men staring at me and was suddenly scared.

"Nothing, I'm um, just going now," I said as I put my Blackberry down instead of taking the picture around him and went home.
While the D.C. police were able to quickly find the criminal, even producing a thorough description of the man, Miller abruptly stopped cooperating, according to the Post, never returning three calls the police made to her. "The undersigned request that this report be suspended until additional means of contacting the complainant is provided," the police report ends.
Miller and her publicist have yet to respond.
[Image via Facebook]
— —
>> Follow Tina Nguyen (@Tina_Nguyen) on Twitter
Have a tip we should know? [email protected]