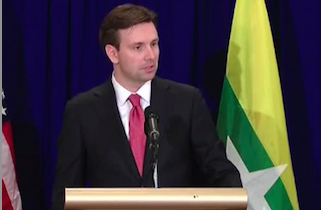 With President Barack Obama overseas on his Asia trip, Press Secretary Josh Earnest held today's White House press briefing from Myanmar. And when Fox News' Ed Henry got a chance to ask a question, he went directly the latest controversy over comments made by so-called Obamacare "architect" Jonathan Gruber.
After quoting Gruber, who said the "lack of transparency" and the "stupidity of the American voter" was "huge political advantage" in passing the law, Henry asked Earnest, "Didn't the president promise unprecedented transparency? Why would one of the architects of the law suggest that you were misleading people?"
"Well, I'm not sure, frankly, Ed," Earnest replied. "The fact of the matter is the process associated with writing and passing and implementing the Affordable Care Act has been extraordinarily transparent." He went on to accuse Republicans of not being "transparent" and "honest" when it comes to discussing Obamacare.
When Henry pushed back, saying the White House seems to have "misled people" about the negative aspects of the law, Earnest said, "it sounds like you may have watched the video a few more times than I have."
Asked if he feels "bad" about Gruber's comments, Earnest replied, "I disagree vigorously with that assessment, I think is what I would say. I think the fact of the matter is this was a very difficult undertaking, but ultimately this is a law that has had significant benefits for millions of people that have been able to sign up through the marketplaces established by the Affordable Care Act."
Watch video below, via The White House:
[h/t TheBlaze]
[Photo via screengrab]
— —
>> Follow Matt Wilstein (@TheMattWilstein) on Twitter
Have a tip we should know? tips@mediaite.com