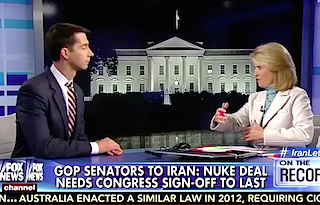 Last night, Fox News' Greta Van Susteren took issue with the 47 Republican senators who penned an open letter to Iran's leadership, saying they could have achieved the same goal in a different way without rubbing "the president's nose in it." On Wednesday, she sat down with Sen. Tom Cotton (R-AR), who spearheaded the controversial piece of communication.
"Why do you have to do it this way? I mean, why do you have to become pen pals essentially with the Iranian leadership you?" she asked the senator, suggesting that he could have just put the letter in The New York Times or Washington Post op-ed pages instead. "But, you know, here it does look like you are end-running the president." She added later, "If you done that you would have the same effect. What you wouldn't have is sort of bypassing the president and having sort of that symbolic gesture of going directly to Iran."
Cotton described the message as an "open letter" to the whole world, but Van Susteren reminded him that it was addressed directly to the leaders of Iran.
RELATED: Megyn Kelly to Sen. Tom Cotton: Aren't You Just Alienating Dems on Iran?
To prove that the Iranians would have heard the GOP's message "crystal clear" had they published it here in the U.S. media, she told Cotton about a time she went to North Korea and the officials there confronted her about something they read about Fox News in The New York Times. "They're all watching us," she said.
Asked if he has any regrets about his methodology, Cotton echoed Sen. Rand Paul (R-KY), saying, "No regrets at all. We are trying to stop Iran from getting a nuclear weapon and Iran has to understand that the Congress will protect the American people from a bad deal as they have been doing for 200 years and as our Founding Fathers envisioned."
Watch video below, via Fox News:
[Photo via screengrab]
— —
>> Follow Matt Wilstein (@TheMattWilstein) on Twitter
Have a tip we should know? tips@mediaite.com