Fox's Neil Cavuto And Dem Rep Battle: Does Obama Think Passing Budget Is 'A Joke'?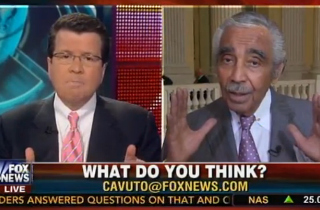 Rep. Charles Rangel (D-NY) appeared on Fox News' Your World this afternoon for a debate with Neil Cavuto — one that quickly devolved into heated crosstalk over the president's lack of a budget proposal and whether spending cuts are necessary for any fiscal plan.
After Cavuto lamented that the president is late in submitting his budget proposal, Rangel replied, "Let me make it clear that once the budget is passed, it has no meaning at all in the law. And so that there's no compulsion for anyone to do anything if, and I hope soon, there's agreement to the budget. A budget is really a statement of policy of the party. And hopefully in the future, we will not find the policy so different."
An astounded Cavuto shot back: "Wait a minute, are you saying when you make a budget, you shouldn't stick to it? It's a joke?"
"That's what you said," Rangel responded. "I said it has no credibility in the law. You said it's a joke. There's a difference."
The congressman continued: "Do you think anybody's going to sleep at night in this country wondering when we're going to get the budget out? Of course not. They're concerned with how they're going to get a job, will there be Social Security and Medicare and will we provide for the poor."
Cavuto asserted that part of assuring the American people of stability requires "providing a budget, providing a plan" but that lawmakers have made a "mockery" of the process.
"Just because it has no bearing in the law doesn't mean it's a mockery and joke," Rangel reiterated. "That's coming from the other side of this camera."
"It has been a joke," Cavuto insisted. "I criticize both parties always making a big deal out of relatively small cuts. Always making a theater production over what are really slices off the growth of spending. Always scaring the bejesus out of the American people."
Rangel then inserted that the budget worries were a relic of the Romney 2012 campaign, and that despite the Republicans' electoral loss, they are "bringing it back."
"Do you think the budget submitted by Senator Patty Murray, which doesn't approach balance and increases spending and increases taxes, is what the American people voted for back in November? Is that what they voted for?" Cavuto challenged the congressman.
"Do you know there's no one that challenges that America's on the road to recovery?" Rangel shot back. "If you think for one minute just saying that you are cutting spending, that doesn't mean that you are cutting savings –"
Cavuto then interrupted to press Rangel on whether he believes anything should be cut from the budget.
"It's how you cut it, of course," the New York congressman answered. "Everybody believes in cutting."
When asked what exactly he'd cut, Rangel replied, "There's so much money that's already been cut."
The two then went back and forth over the Murray budget proposal for a few more minutes before Cavuto jokingly asked the Democrat if he's filled out his NCAA tournament bracket yet.
Watch the battle below, via Fox:
— —
>> Follow Andrew Kirell (@AndrewKirell) on Twitter
Have a tip we should know? tips@mediaite.com