Fox's The Five Disgusted By 'Tasteless' And 'Insensitive' Ad Celebrating Roe V. Wade's 40th Anniversary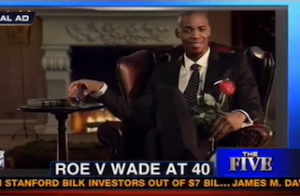 The Five's Andrea Tantaros introduced a segment about today's 40th anniversary of the passage of Roe v. Wade by showing a portion of a new ad celebrating the occasion from the Center for Reproductive Rights.
The ad, titled "Happy 40th Anniversary, Baby" features actor Mehcad Brooks speaking seductively to his "baby," in this case the Constitutional right to have an abortion, decided by the Supreme Court on this day in 1973. Watch the full ad below:
Tantaros could not hide her disgust when the clip ended, saying, "If you are pro-life, or if you're pro-choice, I think everybody can agree there is something tasteless about this ad. It seems to glorify and sexualize abortion. I don't think one woman out there celebrates the anniversary of her abortion."
Co-host Dana Perino agreed, adding "The whole thing is chilling. Who comes up with this? They sit around to think about how they can get someone to be provocative enough to get to us talk about it. It's appalling. This makes a mockery of the pro-choice movement."
Calling the ad "insensitive," Tantaros continued by asking, "So we as women, whether you're pro-life or not, do we want to hear a man who has no idea what it's like to be pregnant or have an unexpected pregnancy lecturing us or trivializing it?"
Greg Gutfeld chimed in, saying, "I thought this was a pro-life ad making light of the cavalier attitude toward abortion. No it was just cavalier attitude toward abortion." He even had an alternative idea for what the group should have done to mark the occasion.
"If they had guts," Gutfeld said, "they would have said a child saying 'Hi, Mom, I would have respected your right to abort me.' But they never would have done that."
The one Democrat on the panel, Bob Beckel, didn't have anything very positive to say about the ad either. "I think it was embarrassment. I can't imagine pro-choice movement is excited about it."
Watch video below, via Fox News:
—
>> Follow Matt Wilstein (@TheMattWilstein) on Twitter
Have a tip we should know? tips@mediaite.com