Franklin Graham Defends Morning Joe Dust-Up: 'I Didn't Bring Up The President's Faith'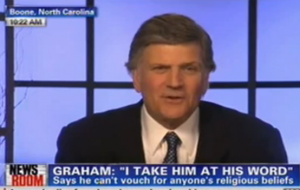 Following his appearance on MSNBC, Franklin Graham spoke to CNN's Kyra Phillips on Wednesday to clear up some of his controversial comments about President Obama's faith. In the segment, Graham mentioned that while he likes Obama personally, he cannot support him. He also went on to emphasize that this was not the topic he wanted to discuss on MSNBC.
About Obama's religious beliefs, Graham said:
The president has said that he is a Christian, just leave it at that…only God knows the heart of all of these candidates.
Graham went on to say the issue of abortion is why he cannot support Obama:
He's going against what the Bible teaches. The Bible is very clear about life, and where life begins, and I believe the president is going against what the holy scriptures teach, and so the Bible is my guide.
[…]
I personally like the president, I think he is a very nice man, he is a very gracious man, but he is just absolutely wrong when it comes to supporting abortion.
Phillips then questioned Graham's "getting political," when, in the past, he'd told her he would avoid it. She stated, "it sounds like you're a Republican in preacher's clothing," — to which Graham replied, "whether a Republican or Democrat, I don't care. If they support abortion, I'm not going to vote for them. It's as simple as that."
Graham further defended himself by saying he never went on MSNBC intending to discuss the president's religious beliefs:
MSNBC invited me to come on the program not to talk about the president's faith. I went on to talk about the Newsweek article about the murder and killing of Christians around the world, and that is what is bothering me, is what Muslims are doing to Christians around the world. I wanted to talk about the Newsweek article.
[…]
I didn't bring up the president's faith. MSNBC, they're the ones that brought it up.
The segment never quite got around to discussing that Newsweek piece.
Watch the clip, via CNN:

Have a tip we should know? [email protected]