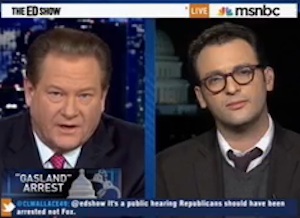 In an interview with MSNBC's Ed Schultz, Gasland director Josh Fox publicly responded to being forcibly ejected from a hydrofracking hearing in Congress Wednesday. "I didn't expect to be arrested for documentary filmmaking and journalism on Capitol Hill," Fox told Schultz. "I was prepared for it but didn't expect it. I did think they would come to our senses and let them film the hearing. We were there covering a very crucial hearing about a case of groundwater contamination in Pavilion, Wyoming, 3 1/2 year investigation by the EPA shows subjects from the first film from Pavilion, with groundwater contamination resulting in 50 times the level of benzene in groundwater and EPA pointed in this case that hydraulic fracturing is the likely cause."
What was happening today, Republicans called in the Science, Space and Technology Committee to a hearing to challenge science. Their panel was made up of gas industry lobbyists. We were there to expose what I believe is ugly and brazen attack on science itself, on what is happening across the country, with hydraulic fracturing. We were there doing our jobs. I was not interested in disrupting the hearing –was not charged with that. I was simply interested in capturing on film in a broadcast quality camera what the Republicans were going to be doing right there, putting the EPA and citizens of Pavilion and everyone across the nation who is complaining of contamination due to hydraulic fracturing on trial. We wanted to make sure people knew it was happening.
RELATED: 'Gasland' Director Josh Fox Arrested During Congressional Fracking Hearing
"Fracking is getting a lot more attention because of you and it's very dangerous and needs to be monitored big time," Schultz observed. "How did the Republicans know it was you? They know who you are because of the work you've done. I heard on the tape it seemed to be Congressional members arguing that you be allowed to stay."
"We went through the proper channels to request permission to enter the hearing," responded Fox. "You have to be a special credentialed journalist. You can ask the chair of the committee or the committee for permission to film. We had done that successfully in the past when the Democrats were in control of the House. Since the Republicans took over, we have had obstruction after obstruction getting into Congress. This time, this was something that we have been covering in a very personal way for 3 1/2 years, and felt — look, I'm going in there because this is the First Amendment. This is freedom of speech. The amendment is 'Congress shall make no law which infringes upon the Freedom of the Press.' That means Congress can't pass a law or a rule or regulation in a subcommittee hearing to obstruct journalists from coming in and exposing to the American people what they are doing."
Schultz asked the environmental filmmaker if he was going back.
"Our film is about the influence of oil and gas on the government. I'm sure we will be back at other public hearings. We are very close to being finished with the film, and this is incredibly ironic that all these events have come together and they are kicking science out of the House of Representatives. They are kicking science and journalism out of the science and technology committee and it's really a brazen attack on American civil liberties and frankly on our ability to investigate the truth.
Watch Schultz's interview with Fox below via MSNBC:

Have a tip we should know? tips@mediaite.com