Geraldo and Roland Martin Explode over Hip-Hop: 'Nobody Can Out-Street Me!'
Geraldo and Roland Martin Explode: 'Nobody Can Out-Street Me!'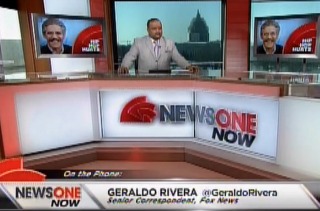 Thursday morning on TV One, host Roland Martin and Fox News correspondent Geraldo Rivera sparred over hip-hop's influence on black culture. Suffice it to say: This was not pretty.
Rivera made waves this week when he appeared on HuffPost Live and decried how, in his belief, hip-hop has done more damage to the black community than racism over the last decade. Martin invited him onto NewsOne Now to debate that premise.

"After a while you have to concede that the virtue being expressed here is a horrible, counterproductive, anti-social message that is holding back the success of people who should be picking up their pants, getting an education, and getting a job," Rivera declared at the outset of their conversation.
Martin countered that hip-hop isn't just about violence, and it has become a mainstream, cross-racial phenomenon, as major corporations now regularly use rappers for branding partnerships. In addition, the TV One host said, financial issues like the home foreclosure crisis, subprime loans, and income immobility have done greater harm to minority communities than rap music ever could.
"Tell me what is more violent than the economic violence of Wall Street against America?" Martin asked. "When you suggest that hip-hop somehow has done more damage than racism… that's utter nonsense."
"The problem is political correctness," Rivera said. "Everybody's afraid."
We don't need to describe much more of the kerfuffle for you to understand: This was heated, full of crosstalk, and neither side budged an inch.
But some other highlights: While quoting The Notorious B.I.G.'s "Player's Anthem" ("Rob the preacher for the offerin' / Leave the fucker coughin' up blood"), Rivera failed to censor himself and TV One producers awkwardly cut to a silent bumper for several seconds.
Also: Rivera attempted to explain that he understands urban violence just as well as any rapper. "Nobody can out-street me!" he shouted after noting that he grew up in what was once a terrible neighborhood of Lower Manhattan.
Watch the full thing for yourself below, via TV One:
— —
>> Follow Andrew Kirell (@AndrewKirell) on Twitter
Have a tip we should know? tips@mediaite.com