Glenn Beck Rips Into Obama Over Race Speech: 'Expert' In 'Most Divisive Form Of Politics'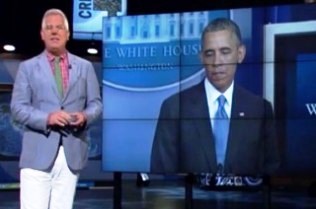 Conservative radio host Glenn Beck went after President Barack Obama on Tuesday over his speech on race relations in America and the trail of George Zimmerman on Friday. After noting that Obama requires no teleprompter to speak about issues relating to identity politics, Beck called the president's address an example of his expertise "on the most divisive form of politics in existence today."

Beck began the segment by observing that Obama is clearly able to speak extemporaneously, without a teleprompter, on issues of race and division whereas he often needs a script to address complex issues of policy.
RELATED: O'Reilly Tears Into Obama's Race Speech: President Has 'No Clue' How To Combat 'Gangsta Culture'
"When it comes to the police acting stupidly or anything to do with identity politics, this man is ready to roll for hours," Beck observed. "It's his lifelong passion."
"The man who was supposed to unite the United States of America is an expert on the most divisive form of politics in existence today," he continued.
Beck said that Obama "pits people against other people" and places them "in little boxes and then convincing those people that you're only in that box because of those people over there. They're the cause of all of your problems."
"I'm sorry, but I've never seen a leader behave this way, ever," Beck concluded. "Leaders don't blame people. Leaders don't lie for their own personal gain – crooks. Crooks do. Leaders tell you the truth – the hard truth."
Watch the clip below via The Blaze:
h/t RWW
> >Follow Noah Rothman (@NoahCRothman) on Twitter
Have a tip we should know? tips@mediaite.com