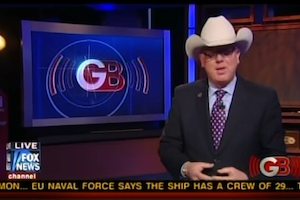 In old movie westerns, the term "White Hat" referred to a hero character whose virtue was occasionally symbolized by his lightly colored headwear. After a trip to Texas, Glenn Beck was ready to pick up that tradition literally. Beck promised again that he was one of the few around to bring viewers the truth and set apart a whole segment to hit back on those trying to silence him. So who are these Black Hat enemies of the truth? In this case it was Media Matters and Jewish Funds for Justice, both of whom made big declarations against Beck and Fox News recently.
The whole "bringing viewers the truth" issue appears to hit a roadblock merely seconds after it being uttered, as Beck a White House disguise a war by not calling it by that word– a practice that is stupid and insulting but has been used by all administrations since the end of World War II— fairly strange)
For Media Matters, Beck focused on the interview in Politico from this past weekend in which the organization's founder, David Brock, claimed they had begun a campaign of "guerrilla warfare and sabotage" against Fox News. Beck was unfazed. After all, he's still up and running.
"Can you imagine having all that money and still, years later, lights are on, we're doing good. I mean, wouldn't you really at some point go, 'I'm so depressed'?"
Next came Jewish Funds for Justice, a group that Beck hasn't been getting along with recently since they've started a campaign against him (the JFSJ is the group Beck was decrying when he got in trouble for making comments that Orthodox Jews found offensive). The group has posted a job listing for a new campaign intern that will help with getting Beck off the air. The listing reads includes this quote:
"While we elevate solutions to the pressing challenges our country faces, JFSJ is also standing up to those who offer nothing but demagoguery and division. Our 'Solutions, Not Scapegoats' campaign is currently focused on Glenn Beck because his destructive rhetoric on mainstream television and radio is by far the biggest impediment to solutions-oriented public discourse."
Beck made it clear that he wasn't afraid of these "losers" either. He's a brave man. But, then again, with a hat that sweet, how could you not be?
Check out the clip from Fox News below:
Have a tip we should know? tips@mediaite.com