GMA Exec Producer Aims For NBC, Calls CBS "Delusional" For Thinking This Is Opportunity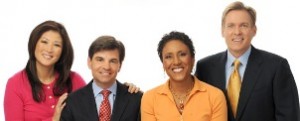 With ABC's Good Morning America line-up finally set in stone – led by George Stephanopoulos and Robin Roberts as well as Sam Champion and Juju Chang – the show can begin to focus on Monday's debut and what the future holds.
Executive Producer Jim Murphy tells Mediaite GMA sees this as a major opportunity.
Murphy told Mediaite bluntly: "We define success as an improvement in the numbers…sure, it's adequate if we keep things where they are, it's fine where they are, it's economically healthy. But we want to do better. We went in looking how we can make it better."
So does that mean Murphy thinks this new team can look to make a dent in unseating longtime first-place morning show, NBC's Today show? "You mean for 14 years?" said Murphy. "Yes I do."
As major changes set in at GMA, the third-place morning show has made a change at the top, replacing Zev Shalev with David Friedman as Executive Producer of CBS' The Early Show. "It happens a lot over there," joked Murphy. "I ran that show once." (He was EP of the morning show – different name – at CBS from 1994-1997.)
And Murphy didn't hold back when asked if he thinks CBS sees this as a chance to make up some ground on second-place GMA. "I think they have a delusional thought that this is a big opportunity for them," he said. "They've got so many institutional issues at CBS News that have been around for a long time that have hurt both the morning and evening shows."
With half the team replaced, Murphy said he thinks the combo chosen is the best because of their "great experience and great personalities." But there's also something else. "You always want to have a group of people that represent the nation in some way," he said. "We're not doing 1950s TV programs anymore with only white men. That's important."
For now, Stephanopoulos will stay on as anchor of This Week as well, meaning he'll anchor two hours every weekday morning in New York and an additional hour in D.C. on Sundays. Murphy says it is very much a temporary solution. "It's going to be incredibly tough, and won't last a long time," he said.
Murphy also praised the group finishing their last broadcast together this morning. "We had a team that meshed well, did a very strong program together, and they're moving on, getting promoted and getting great jobs," he said.
So will GMA make inroads in Today's lead, or will The Early Show start making up ground? We'll see. But Stephanopoulos is a big name, and if he's willing to loosen the tie and embrace the job in full, ABC has a chance to maximize potential in the morning.
—–
» Follow Steve Krakauer on Twitter
Have a tip we should know? tips@mediaite.com