Goldie Taylor On Potential Trauma Of Unisex Bathroom Trips In Combat: I Have No Problem 'Dropping Trou'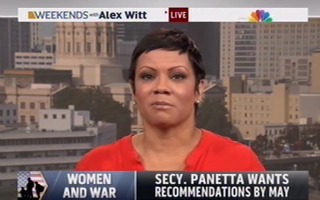 On Sunday, MSNBC contributor Goldie Taylor was asked for her thoughts on an opinion piece from a former Marine who voiced concerns about, among other things, bowel movements in combat zones if women are allowed in the front lines. The Marine wrote that it could be "potentially traumatizing" to have to do what Marines have to do in combat zones if they are now surrounded by women. Taylor dismissed these concerns, saying that she has no problem 'dropping trou and doing what I have to do."

RELATED: Allen West Slams Women In Combat 'Social Experiment,' Suggests They Should Also Join NHL And NBA
Anchor T.J. Holmes read a portion of an op-ed in the Wall Street Journal in which a former Marine expressed reservations about serving alongside women in combat.
"It would be potentially traumatizing to be forced to be naked in front of the opposite sex," wrote former Marine Ryan Smith in the Wall Street Journal last week. Smith explained that being pinned down in tight quarters and having to perform an evacuation in front of a female soldier could hinder operational efficacy.
Retired U.S. Army Capt. Wes Moore dismissed Smith's concerns, saying that "people made the same exact arguments during the desegregation of the armed forces." He added that police departments are not segregated by gender and often face as serious or more serious engagements than do combat forces in warzones.
Taylor, a former Marine herself, also dismissed Smith's objections to women in combat roles. "If I'm out there serving on missions, I have not a problem in the world with dropping trou and doing what I have to do," Taylor said. "It's a scurrilous argument to make."
Watch the clip below via MSNBC:
> >Follow Noah Rothman (@NoahCRothman) on Twitter
Have a tip we should know? [email protected]