Here's How Much Taxpayers Spent to Send Obama to MSNBC Host Alex Wagner's Wedding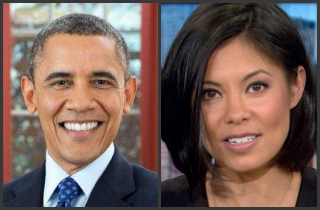 Look, when you're president it's pretty much a requirement that you travel using White House transport like Air Force One. Debates about how much any president spends on travel can become tedious (although always an astonishing reminder of how just much tax dollars get spent on seemingly trivial matters).
That being said, get a load of how much money it cost taxpayers to send President Barack Obama to MSNBC host Alex Wagner's wedding back in August: $358,490.90
Conservative watchdog site Judicial Watch obtained United States Air Force documents, via the Freedom of Information Act, detailing the cost of the president's Labor Day 2014 trips. One of the jaunts included was round-trip fare from Washington, D.C., to Westchester, N.Y., the closest airport to Pocantico Hills, the town where Wagner and White House chef Sam Kass got married.
According to the records, the president's wedding visit cost more than originally planned because, after attending a Friday event in Providence, R.I., the president opted to fly back to D.C. rather than straight to Westchester and stay overnight until the Saturday wedding, as originally scheduled — adding a round-trip fare in the process.
At the time, White House Press Secretary explained that the itinerary change allowed the president to "sleep in his own bed, do a little work tomorrow, spend some time with his family" before heading to the wedding. But Judicial Watch notes that the altered trip cost an extra $295,227.80 in tax dollars.
— —
>> Follow Andrew Kirell (@AndrewKirell) on Twitter
Have a tip we should know? tips@mediaite.com