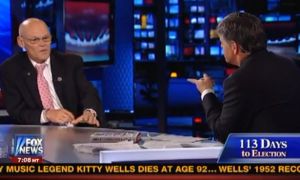 James Carville paid a visit to Sean Hannity on Monday night to debate the successes and failures of President Barack Obama's first term as he seeks re-election for a second. Not surprisingly, the found themselves at odds, disagreeing over how much the country's improved in the past four years — but found common ground of sorts in their sentiment towards the Clintons.
Hannity played the clip of Hillary Clinton used in one of Mitt Romney's ads, in which she says, "Shame on you, Barack Obama. It's time you ran a campaign consistent with your messages in public" — followed by a clip of Bill Clinton asserting "the race card" was used against him. Carville countered this by saying he could find "all kinds of stuff" if he went back through remarks from the likes of Rick Santorum or Newt Gingrich. Harsh words are exchanged in primaries, Carville said, but after a point "it's water under the bridge."
Asked if we're better off economically now than we were four years ago, Carville said we are and "demonstrably" so. Though he conceded the recovery's not been everything we hoped for, but cited good private sector growth. The "real devastation," he said, has been in the public sector. Hannity pressed Carville further on Obama's economic promises and whether he's lived up to them — but Carville insisted that the facts and the job growth are a testament to good policies from the president.
Nonetheless, Hannity cited the low labor participation rate, noting "all of [Obama's] predictions about the economy have been dead wrong." Then, he pointed to Carville's own words — when he said the biggest problem the country has is the deficit — and went on to remind him that Obama's accumulated the most debt of any president. Carville countered by saying the CBO shows 85 percent of the deficit is a result of the Bush years.
It has been tough, Carville said, but the recession was especially tough, too. There was no easy fix. Hannity said he'd take Clinton over Obama any day (noting he may have been wrong to start the "stop Hillary express) — going on to criticize Obama for playing the blame game for all his problems. Carville vehemently defended the president's "doggone" good job, agreeing there've been mistakes, but focusing on the bigger picture.
Take a look, via Fox News:

Have a tip we should know? tips@mediaite.com