Hannity Suggests 'Third Party' to Sarah Palin, Who Won't Rule Out 2014 Senate Run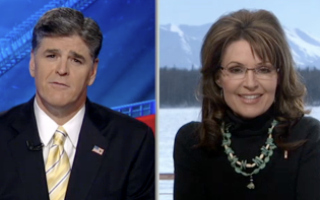 On his radio show Tuesday evening, Sean Hannity and Sarah Palin lamented the current state of the Republican Party and both wondered aloud whether the time is nigh to form a third party for disillusioned conservatives.
"There's no difference between the two parties, at this point," Hannity asserted. At another point during the interview, Palin suggested the president's actions on the debt ceiling have, thus far, been "impeachable" offenses. The two discussed whether it's plausible to jump ship to a third party now that the GOP has seemingly "abandoned" both of them and their followers.
Later on during the discussion, Hannity mentioned to Palin that there is much speculation about her upcoming speech in the caucus state of Iowa. Some have suggested she's gearing up for a 2014 Alaskan senatorial challenge against incumbent Democrat Mark Begich; others are wondering whether she intends to throw her hat into the ring for 2016.
"Are any of these things in your mind at all? Or is this just nonsense?" Hannity asked. Palin's somewhat dodgy response [emphasis added]:
Not sounding cliché or flighty on this or anything, Sean, my mission is to help the good guys who are in there wanting to make a difference. I don't know if that entails me holding a position, having a title. Sometimes the title shackles you, and you're not free to get out there and do what needs to be done. Look, Ronald Reagan said — and I shared this with the vets on Sunday at the World War II memorial — I said that Ronald Reagan reminded us that some people live an entire lifetime wondering if they ever made a difference in the world. Our vets and those who are supportive of our vets which, to me, is very symbolic of all that really matters in this country at this point, the priorities in our government. Our vets and their supporters, they need not ask of themselves whether they made a difference. They've made all the difference. What I want to do is make a difference. And I don't know if that would require me to have a title.
Got that?
[Ed. note: The headline has been updated to reflect the fact that it seems Hannity and Palin were solely discussing the 2014 Alaskan senate race, and not the 2016 presidential primaries.]
Listen to a clip below, via The Sean Hannity Show:
[h/t
MofoPolitics
]
[
image via Fox screengrab
]
— —
>> Follow Andrew Kirell (@AndrewKirell) on Twitter
Have a tip we should know? tips@mediaite.com