Happy Hour Is Over: Fox Business Network Cancels Dayside Business Program (UPDATE)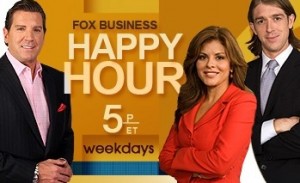 Earlier today Mediate first reported that Fox Business had canceled Fox Business Happy Hour, the 5:00 pm show on the relatively nascent financial news channel. Mediaite has confirmed with Fox Business that an announcement is expected soon with programming changes beyond just 5pm, and has since learned more details concerning larger programming changes at FBN.
Earlier we asked how this show would affect the on-air hosts, Cody Willard, Rebecca Diamond, and Eric Bolling. Well we now hear that Eric Bolling will likely host a prime time program and Gerri Willis (who recently came to FBN from CNN), who was being considered for a weekend program, will likely take the 5pm hour. Both programs are expected to debut sometime in June.
Mediaite also looked into TVNewser's "tipster" report which stated:
An FBN tipster tells TVNewser much of the technical crew has been let go with about two dozen jobs affected. We also hear Gerri Willis, who was brought over from CNN in March, could potentially be named the new 5pm host, but nothing official.
Mediaite has now confirmed with a Fox Business spokesperson that seven project-based employees (who were not considered regular full time staff of the network) were affected. They were not "let go" but "put back into FBN's freelance pool to be used, as needed, elsewhere." The hiring of "at-will" or "perma-lance" production staff is a common practice in nearly all cable based television programs, and Mediate understands that the effected staff understood that their employment would only last the duration of the show's existence.
Have a tip we should know? tips@mediaite.com