Harry Belafonte To Joy Behar: Herman Cain Is A 'Totally False' 'Bad Apple' In The Black Community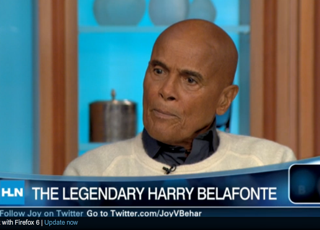 Weird things come in threes, and today the final chapter of "Legendary Crooners Make Surprisingly Bold Political Statements" arrived today with an exclusive Joy Behar interview with Harry Belafonte, where Belafonte pulls no punches on the damage he believes Herman Cain is doing to the black community. Commenting on the latter's claim that he doesn't see racism "hold[ing] anybody back in a big way today," Belafonte called Cain a "bad apple" who has no authority to talk about "the pride of people of color."
RELATED: Herman Cain: 'I Don't Believe Racism… Holds Anybody Back In A Big Way Today'
Behar opened the floor to the topic on her program tonight, noting Cain's comments and asking for a response. "It's very hard to comment on someone who is so denied intelligence," Belafonte replied, "someone who has denied such a view of history." Adding that Cain only believed that because "he happened to have good fortune, a moment when he broke through– the moment someone blinked," he insisted statistics on the number of black people in the American prison system and the exorbitant unemployment rate in the black community clearly disproved Cain's point.
RELATED: Herman Cain Refers To Himself As 'Black Walnut Ice Cream' On Fox and Friends
Belafonte also had a personal comment or two for Cain, calling him "the latest incarnation of what is totally false for the needs of our community and the needs of our nation" and, generally, a "bad apple," and denying that his good luck made him "the authority on the pride of people of color." Given where the Cain campaign was at the beginning of America's Odyssian voyage to 2012, getting slammed by Harry Belafonte may be a sign that Cain has finally arrived at the top tier.
The clip via Headline News below:

Have a tip we should know? tips@mediaite.com