He's Back! Ed Schultz Tears Apart Dick Cheney And GOP For Hillary-Fueled Benghazi Hysteria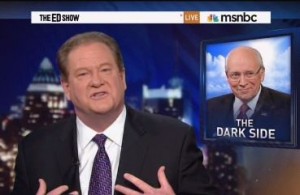 On hiatus from MSNBC since March after his 8 pm show ended, Ed Schultz was back on the airwaves Saturday in his weekend debut, hitting a familiar foe hard: former Vice President Dick Cheney and the Republican Party.
Getting out all his pent up Benghazi frustration, Schultz defended former Secretary of State Hillary Clinton, who he sees as the real prize target in the GOP's Benghazi outrage, and also slammed the former Vice President for having the gall to criticize the Obama administration over a "failure of leadership" when it comes to the September 11th, 2012 attacks. Schultz went after Cheney for serving during the "biggest national security failure in United States history," also drawing on the fact that there were 64 attacks on American diplomatic targets during the Bush/Cheney years. "Where was the Republican outrage then?" Schultz asked.
Schultz was joined by former Chief of Staff to Colin Powell Lawrence Wilkerson, who joined Ed in attacking the faux GOP outrage while viewing these investigations as a way of "denigrating Hillary Clinton." Wilkerson also shared his insight on the controversy over the changed talking points, claiming that in 35 years working in government, he has seen talking points changed "all the time," usually in an attempt to get information out to the American people quickly.
Schultz circled back to Cheney, asking Wilkerson about a statement Cheney made to the UK's MailOnline about being prepared on 9/11.
When we were there, on our watch, we were always ready on 9/11, on the anniversary. We always anticipated they were coming for us, especially in that part of the world.
Wilkerson fired back at Cheney, saying that leading up to the 9/11 attacks, Cheney and his co-horts were not concerned at all about Al-Qaeda, instead obsessed over going to war with Iraq.
Watch the segment via MSNBC:
Have a tip we should know? tips@mediaite.com