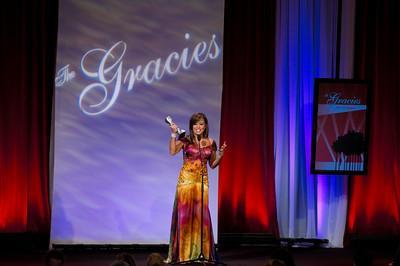 HLN's Robin Meade returned last night from a cross-country trip from California to Atlanta and was nearing her bedtime (since she's back on the air bright and early with Morning Express) – but when we talked to her she was as peppy as she is each day on the air.
She won a Gracie Award in Hollywood this week for Outstanding Anchor, and we talked to Meade about the win, her show's success, and yes – what should happen on CNN at 8pm.
Meade joined other winners like NBC's Andrea Mitchell and fellow CNNer Jessica Yellin with wins this year. "To me its huge," she told Mediaite. "When I was notified that I was selected I was beyond happy about that, and then I was really grateful for my team who put the tapes together."
The previous winner in Meade's category was CBS' Katie Couric, a role model of Meade's. "She was somebody coming up through broadcasting, that I enjoyed her style in the morning," said Meade. "You could see she was tough, but she might laugh on the air. She seemed really authentic and accessible."
I had to ask Meade about last week's big news – Campbell Brown's exit from CNN. Even though Meade said she didn't know "what the answer is there," she through out a possibility. "A news show with a live audience," she said. "Maybe a show somewhat like Jon Stewart but not comedy. Something different. Doing a show with a live audience is almost like having Twitter, Facebook and emails there in person. You could fashion the rest of the news show based on how they're reacting."
Whatever CNN chooses, Meade has helped make her HLN show into a must-see in the morning. With ratings now surpassing both CNN and MSNBC for 2nd place on cable news, Meade points to the format as a reason for the success. With scripts usually "20 seconds or less" the feeling is viewers are busy and "want to know a little bit about a lot of things." She talked about the "artificial mood enhancement," of waking up in the morning, and helping her viewers by being their "emotional guardian" as they start their day.
"The format really matches what people in our demo need in the morning," said Meade.
Have a tip we should know? tips@mediaite.com