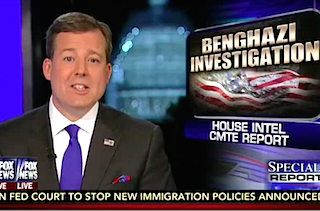 On the Friday evening before Thanksgiving, the Republican-led House Intelligence Committee released its long-awaited report on the 2012 Benghazi, Libya attack against the U.S. consulate there that left four Americans dead.
As the Associated Press reported, the committee found that there was, "no intelligence failure, no delay in sending a CIA rescue team, no missed opportunity for a military rescue, and no evidence the CIA was covertly shipping arms from Libya to Syria." In essence, it "debunked" the most persistent myths put forward by Congressional Republicans and Fox News.
So, how did Fox cover these findings? Chief White House correspondent Ed Henry, sitting in for Bret Baier on Special Report Friday evening, spent just under 30 seconds discussing the report and the aspects he chose to highlight speak volumes.
"The House Intelligence Committee says the initial assessment of the Benghazi terror attacks two years ago, that they were in fact terrorist in nature, was accurate," Henry reported. "It says CIA and Obama administration officials later supported the incorrect scenario that the attacks were motivated by an internet video and stuck with that for several days."
He then pivoted to a new United Nations report that says the attack was carried out by Al Qaeda, adding, "that contradicts the strenuous denials from the Obama administration."
And that was it.
Could it have been unintentional that Fox left out the fact that it was intelligence analysts, not political appointees like Susan Rice, Ben Rhodes or others, that made the wrong call about the origin of the attack in those first few days? Or the fact that there was no "stand down" order given to a CIA response team once the attack was under way? And what about the theory that the CIA was collecting and shipping arms from Libya to Syria? Not true, according to the report.
But if you are a regular Fox News viewer who has spent the last year hearing these claims over and over again by on-air personalities, you would have absolutely no idea from Henry's report that any of them had been determined to be false — by a Republican-led committee no less.
Rep. Adam Schiff (D-CA), who serves on the intelligence panel said in a statement, "It's my hope that this report will put to rest many of the questions that have been asked and answered yet again."
Unless Fox decides to dedicate a fraction of the time they spent hyping up the Benghazi conspiracies to debunking them, there's very little chance of that happening any time soon.
Watch video below, via Fox News:
[Photo via screengrab]
— —
>> Follow Matt Wilstein (@TheMattWilstein) on Twitter
Have a tip we should know? tips@mediaite.com