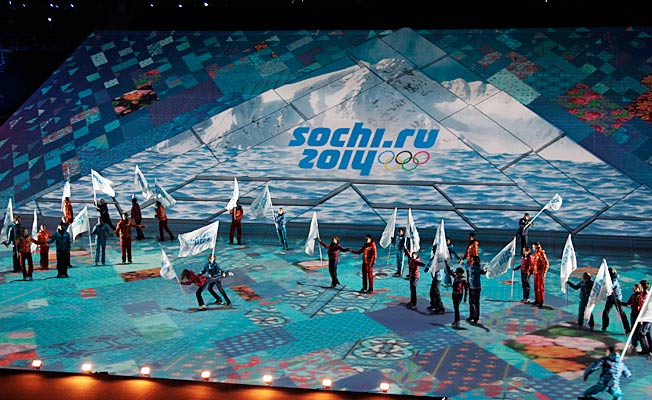 The 2014 Winter Olympics from Sochi, Russia officially began Friday, February 7th. And while NBC will be showing as much of the games as they possibly can during their prime time schedule over the next couple of weeks, in order to watch much of the action live, your best bet is to do it online. But unlike Fox Sports' ultimate decision to live stream Super Bowl XLVIII free without restrictions, NBC will be requiring that you have a cable subscription (or access to one) in order to watch all 98 medal events live.
How to watch online:
Visit stream.nbcolympics.com/live-extra, where you can verify your cable subscription account (Xfinity, Time Warner Cable, DirecTV, Dish, Verizon FiOS and many more) and then watch an unlimited amount of coverage from NBC. You can also watch a 30 minute trial, with an additional 5 minutes per day, without verifying an account.
How to watch on mobile:
Similarly, NBC Sports is providing streaming coverage via their Live Extra app for iPhone/iPad and Android. In addition to watching all events live, you can also set up push notifications to be alerted when events are about to begin.
The one event that will not be streamed online is the opening ceremony, which will air several hours after the fact Friday night, February 7th beginning at 7:30pm ET on NBC.
"We think it's very important that we package that event with all the Russian culture and history that's being creatively expressed, much of that program might not make sense to viewers without the context that Matt Lauer and Meredith Vieira are going to bring to that," NBC Sports Group Chairman Mark Lazarus said at a press event. "We think it's very important that we do that, and it's the right model. It worked for us in London, and it's going to work for us again."
Of course, you may recall the last time NBC made this decision during the 2012 Olympics in London, it inspired a massive social media backlash centered around the hashtag #NBCFail, which appears to be making a comeback this week.
Good news if you happen to live in the United Kingdom or Canada: Both the BBC and the CBC will be broadcasting extensive live coverage online for free. The only problem is that it's blocked for anyone who lives in the United States.
[photo via NBC Sports]
— —
>> Follow Matt Wilstein (@TheMattWilstein) on Twitter
Have a tip we should know? tips@mediaite.com