Huckabee To Fox: 'Should We Be Surprised' About School Carnage When We've 'Removed God From Schools'?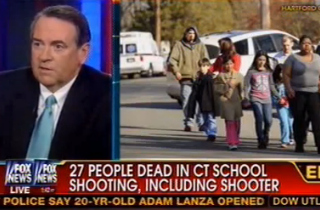 Appearing on Fox News' Your World this afternoon to discuss the tragic massacre in Newtown, Conn., former Arkansas Gov. Mike Huckabee said that we shouldn't be surprised that schools have become a place of carnage after Americans have rejected teaching about life and responsibility by "removing God from our schools."
Host Neil Cavuto, trying to make sense of the horrific events that have transpired, asked the religious commentator what he believes many will now wonder: "How could God let this happen?"
"It's an interesting thing," Huckabee said. "We ask why there's violence in our schools but we've systematically removed God from our schools. Should we be so surprised that schools would become a place of carnage? Because we've made it a place where we do not want to talk about eternity, life, what responsibility means, accountability. That we're not just going to have to be accountable to the police, if they catch us, but we stand one day before a holy God in judgment."
He continued: "If we don't believe that, then we don't fear that. When people say, 'Why did god let it happen?' You know, God wasn't armed. He didn't go to the school. But God will be there in the form of a lot people with hugs and therapy and a lot of ways in which he will be involved in the aftermath."
"Maybe we ought to let him in on the front end and we would not have to call him to show up when it's all said and done at the back end," he concluded.
Watch below, via Fox:

— —
>>
Follow Andrew Kirell (@AndrewKirell) on Twitter
Have a tip we should know? tips@mediaite.com