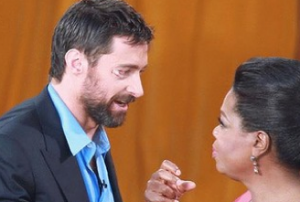 Aussie actor Hugh Jackman intended to make a dramatic entrance on Oprah Winfrey's Oprah's Ultimate Australian Adventure, taping an episode at the Sydney Opera House. He sure did, with the Wolverine left bleeding and with a black eye.
According to the Hollywood Reporter, Jackman was rigged to a "flying fox," which is a high-wire assembly that was to swoop Jackman through the air from the top of the Opera House and down onto Oprah's Aussie set. HR reports the actor "hit the brakes" too hard and crashed into rigging for studio lights, injuring his face:

The Wolverine star was removed from the set bleeding from underneath his right eye. Winfrey suspended taping for the show for about 10 minutes to ensure that Jackman received proper medical attention. He later returned and carried on with his scheduled interview segment, sporting an adhesive bandage over the wound and a fresh, black eye but appearing otherwise unshaken. In an exhibition of true show-must-go-on spirit, Jackman also participated in a musical production number to close the show.
According to a report this morning in People, the accident upset Jackman's young son:
"That's gonna swell," said Winfrey, 56, as Jackman returned with a small piece of tape under his eye and a visible bruise beneath it. The actor then headed down into the front row to comfort his son, Oscar, 10, who was upset by the accident.

"That was so much fun until the end," he said. Referring the Winfrey's previous guest, he added with a laugh: "Bono was meant to do this, but they couldn't afford the insurance."
Have a tip we should know? tips@mediaite.com