Huh? CNN Anchors Suggest Aaron Alexis' Violence 'Doesn't Square With' Buddhism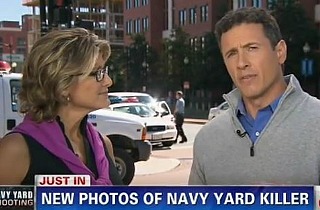 On Tuesday morning, in the wake of the massacre at the Washington Navy Yard, CNN anchors Ashleigh Banfield and Chris Cuomo discussed reports that the gunman, Aaron Alexis, was a practitioner of Buddhism. The anchors agreed that he must not have been a legitimate Buddhist because the religion's tenets strictly forbid violence.

"When I learned he was a practicing Buddhist, when I learned he spent so much time vacationing in Thailand, it was not the profile of who I expect to pick up a weapon and kill 12," Banfield said of Alexis.
RELATED: Aaron Alexis Had Security Clearance for Navy Yard, WaPo Reports
"Which goes to the legitimacy of being a practicing Buddhist," Cuomo added, "as opposed to being someone who is fascinated with Buddhism and maybe hung around with Buddhists.
"You know, it is a very defined philosophy," he continued. "And being someone who has a violent tendency and appetites does not square with the philosophy involved there."
While it is certainly true that the tenets of Buddhism prohibit violence, this is also a statement that could be said of any of the world's great religions. Furthermore, it is also true that there is no great religion on earth that does not see its practitioners violate its stated tenets of non-violence regularly and with abandon.
In the case of Buddhism, violent atrocities are being committed regularly by its practitioners in its historic homeland of South East Asia. There, Buddhists have been engaging in rolling battles with the nation of Burma's minority Muslim population for some time.
As recently as August 25, Buddhist rioters burnt Muslim-owned shops and attacked crowds of Muslims with swords and blunt instruments.
Spiking further moral ambiguity, as Vice magazine reports, much of the violence has been instigated by "Buddhist neo-Nazis." According to Dr. Muang Zarni, a Burmese human rights activist living in London, a group known as 969 has been instigating attacks on Muslims in order to "purify" the country of its minority Islamic population.
Alexis' commission of horrific violence is a violation of his interest, be it religious or merely academic, in Buddhism. It is also not extraordinary that Buddhist faith in non-violence might be violated.
The belief that Buddhists are inherently peaceful people is rooted in a mid-century idealization of Eastern philosophy and culture. Like much of the cultural touchstones the Baby Boomer generation has embraced as a fundamental human truth, this faith-based assertion is difficult to reconcile in the context of modern events.
Watch the clip below via CNN:
[Photo via screen grab]
— —
> >Follow Noah Rothman (@NoahCRothman) on Twitter
Editor's note: This post has been edited since its original posting – Jon Nicosia, Mgr. Editor
Have a tip we should know? tips@mediaite.com