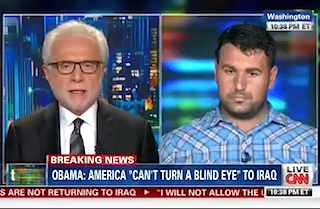 During CNN's coverage of the escalating humanitarian crisis in Iraq Thursday night, Wolf Blitzer welcomes a member of the American Yazidi community, Basim Alali, to help shed light on the religious minority that has been persecuted by ISIS and is currently stranded on a mountaintop without access to food and water. But at one point during their conversation, Alali confronted Blitzer over a characterization of his people made by CNN earlier in the segment with which he vehemently disagreed.
Before Alali appeared on CNN, Alisyn Camerota gave viewers some background on the Yazidi, which she described as "a pre-Islamic sect that draws some tenets from Christianity, some from Judaism." She added that "they have often been persecuted" and "some extremists have branded them as devil-worshippers."
"I would like to mention a couple of points that she mentioned earlier," Alali told Blitzer later, referring to Camerota's comments. He described the Yazidi as "not a Muslim religion" that believes in "one god."
"I'm very disappointed and surprised that even in 2014 with all this technology, people still do not know much about our background," he said. "I'm very disappointed, honestly to see this, like, 'devil-worship.' No, we are not, we are very peaceful."
"The Yazidis have a very rich and beautiful history," Blitzer said quickly. "The only point that I think we were trying to make is that to these ISIS militants, these Muslim extremists, they consider you devil-worshipers, which is obviously horrible."
Alali seemed to accept Blitzer's words as a reasonable explanation.
Watch video below, via CNN:
[Photo via screengrab]
— —
>> Follow Matt Wilstein (@TheMattWilstein) on Twitter
Have a tip we should know? tips@mediaite.com