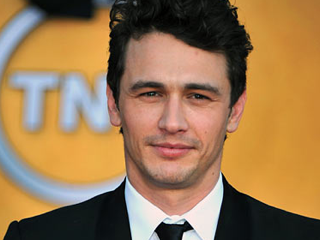 As James Franco continues to be everything Charlie Sheen is struggling to become, a new chapter in the ongoing quixotic art project that is Franco's career unfolded today as his Twitter account mysteriously disappeared. The event would not have prompted as many raised eyebrows had Franco not recently complained of anonymous forces pressuring him into complacency on the medium, and his declaration that, in its entirety, "social media is over."
Gawker's Adrian Chen was first with the news, and has some speculation on what may have been behind the departure:
It seems like boobs may have sparked Franco's Twitter downfall. Thursday night, Franco tweeted a picture of himself getting rubbed up on by a bunch of naked women for a new short film by Kids writer Harmony Korine. But the next day, he told Politico that "Social media is over." Why?

"My thought was 'this is my Twitter. I can do whatever I want.' But certain companies I work with contacted me about what I was saying." Today: Franco's vanished from Twitter.
So many questions, the censorship actually being the least intriguing of them all. Why was James Franco talking to Politico? Sure, he was in Washington to promote a non-profit and as an Ivy League-educated future professor, he actually– unlike most Hollywood types– may have something of merit to say on serious issues. And he did discuss his career with Politico, though a hefty chunk of their coverage seems to be exclusively on his Twitter account, and how he felt that he was being pressured to measure his words on the social networking site, though no word from whom. Given that he was talking to Politico, wrapping up his academic career, and now cleaning up is public image by erasing a sizable amount of it, could it be Franco may be considering a 2012 bid? You may laugh, but remember the initial reactions to the idea of Donald Trump landing on that ballot (or, for that matter, Franco appearing on General Hospital).
Have a tip we should know? tips@mediaite.com