Janet Napolitano: We're Working "24/7, 364" To Keep The American People Safe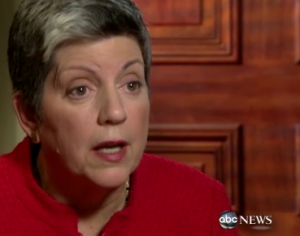 Ya gotta wonder which day America's anti-terror forces are kicking their feet up with a book and maybe a nap, instead of, you know, "keeping the American people safe?"
On ABC's World News tonight, Diane Sawyer sat down with Homeland Security Secretary Janet Napolitano to talk about the possibility of a terror attack over the holidays.
And Napolitano, doing her best to keep us all feeling cozy and warm, said it's almost a year-round operation:

"What I say to the American people is that… thousands of people are working 24/7, 364 days a year to keep the American people safe."
Uh, 364 days, you say? So which day is it when you guys are at the beach? Because I think I might stay home that day, also. You know, skip the airport, subway, and I'm probably not even answering the door that day. I'm thinking that'd be a great day for me to skip the family reunion, take a pass on that trip to Times Square, and altogether be the frightened scaredy-cat the terrorists have been hoping I'd become. Might even dig a hole in my back yard and spend that 24-hour stretch out of sight.
Napolitano didn't specify which day was the Homeland Security "off day," which of course helps to keep our terrorist enemies off guard. After all, if they don't know the magic day when all are defenses are down, how can they plan an attack? Is it New Year's Eve? (Perhaps too obvious) Flag Day? Is it that National Cupcake Day? Can we agree to make it a day when I'm out of town?
Watch the brilliant moment here, from ABC:
Have a tip we should know? tips@mediaite.com