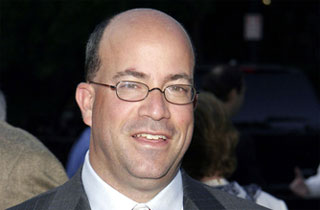 As layoffs at CNN affect the network's DC bureau, network chief Jeff Zucker is set to personally meet with the employees this week to assuage their concerns.
The plans to cut its staff by 300 employees — as part of Turner Broadcasting's "restructuring" — hit CNN's DC bureau in particular, cutting nearly 50 employees while adding at least 20 people on the digital side. Politico reports that the firings, along with the new hires and reports of employees receiving raises and promotions, has sent morale plummeting and created tension. (A staff member told Politico that last Friday, during the most recent round of layoffs, "people were crying all over the bureau.")
So this meeting should be, well, interesting:
The email, sent to all members of the D.C. staff and forwarded to POLITICO by network sources, was titled "EMPLOYEE MEETING WITH JEFF ZUCKER."

"I want to hear from you. So I hope you can join me next week for an informal employee gathering," Zucker wrote in the email.

"No agenda, no talking points. Just a chance to spend some time, answer your questions, hear what's on your minds," he continued. "I hope to see you there."
Overall, Turner Broadcasting plans on cutting 1,475 positions through a combination of buyouts and layoffs, and has eliminated entire departments in order to do so.
While the layoffs were inevitable at CNN, employees had earlier complained to Politico that Zucker was executing the layoffs poorly:
"No one has said, 'This is tough, but here's the road ahead,'" an employee said…

"Many employees who are left are terrified of being let go," the staffer said. "The management in the bureau is forcing most remaining producers to sign contracts, because they are worried even more people are going to leave the company, and the bureau can't run with fewer people than are staffed now. So as a huge group has been let go, [others] are getting promotions and huge raises, which has made the last month horrible between the haves and have nots."
UPDATE — 5:15 p.m. ET: Sources tell us the meeting has been scheduled for weeks, however, as part of Zucker's ongoing series of meetings he attends across the country. In the past three weeks the network exec has conducted similar meetings in New York, Atlanta, and Los Angeles.
[Politico]
[Image via Everett Collection / Shutterstock.com]
—
>> Follow Tina Nguyen (@Tina_Nguyen) on Twitter
Have a tip we should know? tips@mediaite.com