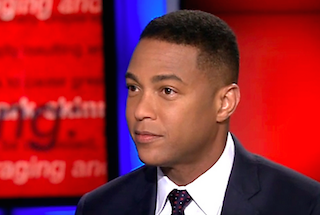 CNN's Don Lemon, who just last year hosted an entire special about the "n-word," now says he is "tired" of debating the word and has decided that African-Americans should just use it if they want to. "I'm not the word police," he said Tuesday on the Tom Joyner Morning Show.
The topic at hand was the controversy surrounding the NFL's move to penalize players for using the word on the field. With all the various NFL scandals that have unfolded over the last several months, Lemon said the league "is now more than ever determined to clean up its act and its public relations."
But "the biggest problem the NFL faces in implementing the policy," according to Lemon is that "the people who use the word most in the league are black players" while "the people who will mostly be calling for the penalties or fines are white."
"Use it at your own peril," Lemon warned. "Some people will make money on the word by lulling other people into thinking its OK to use it. And some people will lose money by buying into it; a lot of them apparently, black, professional football players."
"I'm not the word police," he continued. "It's your business. I'm tired of debating it. I don't care to talk about it anymore, but I'm sure I will have to because of what I do. But can I just say? I told you so."
RELATED: Piers Morgan Uses Brutal Slave Whipping Analogy in Treatise Against the 'N-Word'
It was last July that Lemon struck a very different tone while discussing the issue on CNN. The George Zimmerman trial had just ended and Lemon took the leap of not only agreeing with Bill O'Reilly's assertions that black culture is partly to blame for violence in those communities.
"Bill's got a point. In fact, he's got more than a point," Lemon said at the time. "In my estimation, he doesn't go far enough." He then listed five things young African-Americans could do to improve their communities, including the the removal of the "n-word" from their vocabularies.
Listen to audio below, via BlackAmericaWeb:
And watch Lemon's commentary from July 2013 below, via CNN:
[Photo via screengrab]
— —
>> Follow Matt Wilstein (@TheMattWilstein) on Twitter
Have a tip we should know? tips@mediaite.com