Jesse Jackson's 'Tribute' At Chavez Funeral: He Fed Hungry, Lifted Poor, Helped People 'Realize Their Dreams'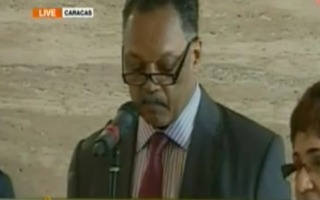 Civil rights leader Rev. Jesse Jackson is in Venezuela on Friday where he delivered a eulogy for the recently deceased Venezuela President Hugo Chavez. With actor Sean Penn in the front row, Jackson delivered a somber prayer that Chavez' soul would find peace in the afterlife. He praised Chavez's record as president, and prayed that there could be peace between the Latin American nation and the United States.

RELATED: Morning Joe Takes On Chavez's 'Mixed Legacy,' Hollywood Supporters: Largely About 'Sticking It To' Bush
"Death is certain. Life is uncertain. Thus, a life of service matters," Jackson told the assembled mourners. "We pray to God today that the soul of Hugo Chavez will find peace and accept service in the Kingdom."
Jackson prayed for wisdom and support for Chavez's successor, Nicolás Maduro, "as he keeps hopes and dreams alive, as he picks up the baton and makes a great nation greater."
He prayed for the almighty to repair the divide between the United States and Venezuela:
"We pray God today that you will heal the breach between the U.S. and Venezuela," Jackson continued. "We are neighbors. We share the same hemisphere. We play ball together. We trade resources together. We fight drugs together. We share dreams together. We're bound by culture and environment."
Jackson heaped praise on the legacy that Chavez would leave behind:
"Hugo fed the hungry," Jackson added. "He lifted the poor. He raised their hopes. He helped them realize their dreams. And, so, today we do mourn, because we've lost a lot. But we have a lot left – a stable government, an orderly transition."
He prayed that the leaders of the United States and Venezuela would meet soon. "While it may be politically difficult, it's the morally right thing to do," Jackson observed.
Watch the clip below via Al Jazeera English:
> >Follow Noah Rothman (@NoahCRothman) on Twitter
Have a tip we should know? [email protected]