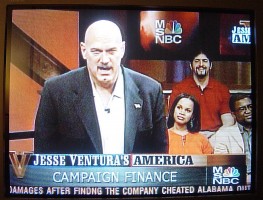 In the midst of promoting his TruTV show "Conspiracy Theory," Jesse Ventura casually dropped what sounded like a conspiratorial claim of his own. Speaking to the LA Times, "The Body" told an interviewer that when MSNBC found out that he opposed the war in Iraq, the network "silenced" him by canceling his cable show and refusing to let him host any other news programs.From the LA Times:
This is not your first venture into TV hosting since leaving the governorship. What happened to "Jesse Ventura's America," which ran briefly on MSNBC in 2003?

It was awful. I was basically silenced. When I came out of office, I was the hottest commodity out there. There was a bidding war between CNN, Fox and MSNBC to get my services. MSNBC ultimately won. I was being groomed for a five day-a-week TV show by them. Then, all of a sudden, weird phone calls started happening: "Is it true Jesse doesn't support the war in Iraq?"

My contract said I couldn't do any other cable TV or any news shows, and they honored and paid it for the duration of it. So in essence I had my silence purchased. Why do you think you didn't hear from me for three years? I was under contract. They wouldn't even use me as a consultant!

When you live in Mexico, your houses all have names. I almost named my house Casa MSNBC because they bought it. I was paid like a professional athlete, and I got very wealthy. For doing nothing.
Jesse Ventura's America was on the air for less than four months, from October to December of 2003, and aired only on Saturdays. According to the Star-Tribune (article no longer online; see post #24 on the thread), the show averaged 249,000 viewers — a 39% bump up from the nature documentaries and such previously in the slot, but not exactly a home run. Whether MSNBC dropped Ventura for his political views may ultimately be known only by Ventura and the network, but he hardly had unimpeachable stats.
Still, that "Conspiracy Theory" show looks pretty cool. Maybe there's a Casa TruTV on the way?
Here's a clip from Jesse Ventura's America, in case you want to know what all the fuss is about:

Have a tip we should know? tips@mediaite.com