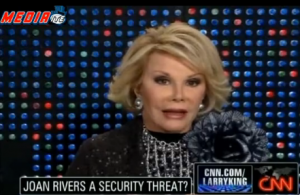 On last night's Larry King Live, Joan Rivers was not pleased about her treatment at a Costa Rican airport. Thanks to a mixup at the ticket counter, she was held back by airport security while her family flew home to the US.
Rivers wasn't afraid to show her indignation: she called the agent who detained her a "moron idiot" and speculated that the woman was "premenstrual."
An aside: "Joan Rivers A Security Threat?" would make a pretty enticing Chyron of the Day.
Here's what happened, in a nutshell: Joan Rivers is, in fact, a stage name: her real name is Joan Rosenberg, and her American passport says "Joan Rosenberg, AKA Joan Rivers." But the airport gave her a boarding pass which read "Joseph Rosenberg," which got her past several rounds of security, but which got her held up at the last minute by an agent who was also apparently confused by the "AKA" designation: (transcript via CNN)
JOAN RIVERS: A wonderful vacation. We were told to get to the airport with a lot of time, because it was already after there was trouble. We did. Bring all kinds of identification, which we did. I was taken through four different checkpoints, all of which I was glad to do, took off my shoes, took off everything.

Then, at the last minute, some moron idiot decided, as we're literally going onto the plane, and ripping your ticket, they didn't understand why my passport had two names on it. And I was denied access to the plane.

KING: Has this ever happened to you flying before? RIVERS: Never. I've been all over, Larry, India, China, Nepal, Korea, you name it, Russia, never.

KING: What was the gate agent's point of view, then? Was it a he or a she?

RIVERS: It was a woman. And I think she was premenstrual. And she was just in a terrible — she just wasn't going to understand that I was flying under two names with my passport that the United States government says also known as, AKA.
At the end of the segment, a caller asked if Rivers was ashamed of calling a woman who was trying to do her job a "moron:" in as many words, Rivers said 'no:'
"I was given a boarding pass with the wrong name on it. I went through five different security passes. And then a woman at the gate, who will not look at my passport, who will not call Continental, who will not call for help, who will not recheck into their records, says to me, you cannot go on? No, she is a moron. And I stand on that."
Have a tip we should know? [email protected]