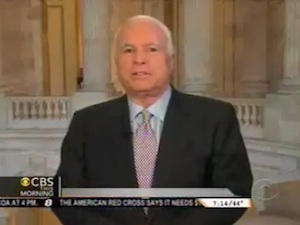 The Monday edition of CBS This Morning featured something of a point/counterpoint concerning HBO's Game Change, with Senator John McCain slamming the film and director Jay Roach fiercely defending it.
Host Charlie Rose asked McCain why he wasn't going to see the biopic based on his campaign. "Because it's based on a book that is full of unattributed quotes, things that absolutely never happened," McCain explained. "And if it's based on that book — which I was briefed on — then, of course, it can't be accurate."
RELATED: Lyin', Tigers, And A Bear, Oh My: Sarah Palin Hits Back At Game Change With New Ad
Gayle King spoke with director Jay Roach later in the program and defended the veracity of his film.
"What's interesting, there has been a lot of controversy from the Palin camp," King noted. "But I think when you see the movie, and I did see it, you can almost feel empathy for Sarah Palin. Was there a deliberate attempt to do that? Was that just me?"
"I'm glad you felt that way," Roach replied. "Because we were trying to humanize her, get past the iconography of whichever side you were on. Whatever you thought about her was driven by the media impression. We felt there must be more going on under that. She was a very sympathetic person. She was — at the beginning of it — she was under an incredible attack. She had a kid going off to Iraq. She had a five-month-old baby with Down's syndrome. Two daughters, one pregnant, and she's thrown on to the national stage."
"It's an incredibly well-researched movie," he added. "The guys who wrote the book interviewed everybody. The senior guys, too. We interviewed ourselves. Danny Strong — the great screenwriter — and I, we did Recount together. We learned to go to the sources directly. We went to the head guys who were there making the decisions."
Watch McCain's dismissal of the film:
And the director's defense, below, both via CBS:
Have a tip we should know? tips@mediaite.com