John Oliver Trashes Goldman Sachs For Grift, Schemes And It's 'Guaranteed That Nobody's Going To Jail!'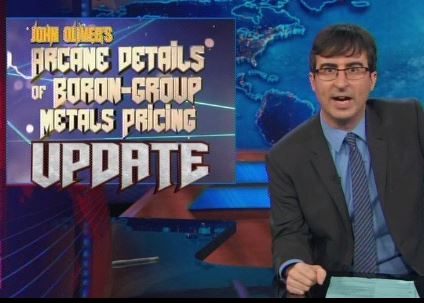 John Oliver opened tonight's Daily Show talking about aluminum (begrudgingly pronouncing it the American way), jokingly begging the audience to bear with him. He broke down exactly how Goldman Sachs is manipulating and profiting off aluminum prices. He also skewered a Fox Business News analyst claiming this is too confusing for him by trotting out an eight-year-old girl to explain it to him.
Oliver praised aluminum as a resource that's "provided much-needed headgear for our crazy people" before breaking down the financial alchemy of turning aluminum into pure gold. But he expected the audience to get bored easily, so he cried, "Don't change the channel! I promise this story's worth listening to!" and spiced up the piece with a graphic set to heavy metal. During the segment, Oliver used prop tin cans as phones to call his broker.
Oliver mocked the "merry-go-round of metal" Goldman is engaging in for this "grift," which anywhere else would be "insider trading," but as Oliver explained it, the commodities market calls it "Thursday." He also went after Fox Business News' Charlie Gasparino for his seeming confusion at the story, asking, "How do you not get it? You're a financial expert seemingly flummoxed by the easiest financial story in a decade!"
And to prove his point, he brought out a little girl to explain the story clearly. She put the news in simple terms, before demanding to know when Jon Stewart's getting back.
Oliver found it particularly apt that Monopoly announced getting rid of the JAIL option today, because, "you just move pieces of metal around and around in a circle collecting money whenever you want and it's guaranteed that nobody's going to jail!"
Watch the video below, via Comedy Central:
Part 1:
Part 2:
—–
Follow Josh Feldman on Twitter: @feldmaniac
Have a tip we should know? tips@mediaite.com
Josh Feldman - Senior Editor