Jon Stewart's 9-Min. Skewering Shows He Has Pretty Much Lost Faith In Rep. Weiner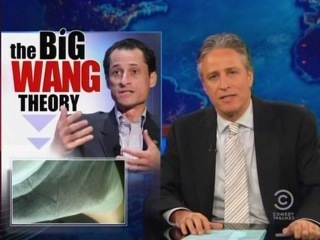 Jon Stewart has been perfectly transparent in counting Rep. Anthony Weiner among his friends and giving him the maximum benefit of the doubt as the mystery of how a lewd photo ended up on his Twitter account. But while Stewart began the week shrugging the story off, and begrudgingly kept his audience "apenis" of it, today he spent almost ten minutes parsing the legislator's interview with Wolf Blitzer and trying to figure out how he cannot have certainty in whether the photo is his.
Stewart did his very best to begin the segment with anything but "Weinergate," thanking Mitt Romney for doing something in the news and laughing at his unremarkable campaign launch speech. But not even Stewart could keep the vulgar photo in check, as it took over Romney's image and "literally c*ckblocked" the story. But Stewart didn't give up, attempting to run the introduction to InDecision 2012 to fight off the rogue graphic, only to be greeted with "Circumcision 2012: Between A C*#k and a Hard Place" and, eventually, an incredibly boring picture of Tim Pawlenty's crotch which put him to sleep.
After all this madness, Stewart finally got to the root of the matter, looking at Rep. Weiner's words. He began slowly, mocking Rep. Weiner for using the term "distraction" to describe the full-blown scandal. "Distraction is a cell phone going off in a meeting," he joked. He then got to Rep. Weiner being uncertain of whether the photo is of him, and gave him some free advice: "I'm no big city detective, but why don't you just check inside your pants, where I believe you keep the item in question?" He then scoffed at the thought that investigators were needed to identify him ("your penis didn't rob the Bellagio") before sighing at the thought of having to cover the story at all.
Herein Angel Tom Brokaw took advantage of the moment of weakness to remind Stewart of journalistic integrity, only to be fought off successfully by Devil Don Rickles' shouts of "Weiner's wiener!" His conscience satiated, Stewart then proceeded to slow-jam his pal's troubles for another five or so minutes.
So for those of you keeping tally on who is and isn't defending Rep. Weiner in the great summer caper known as "Weinergate," it's pretty safe to say the Congressman just lost Jon Stewart. It might be time to rethink that PR strategy.
The segment via Comedy Central below:
Part 2
Part 3
Have a tip we should know? tips@mediaite.com