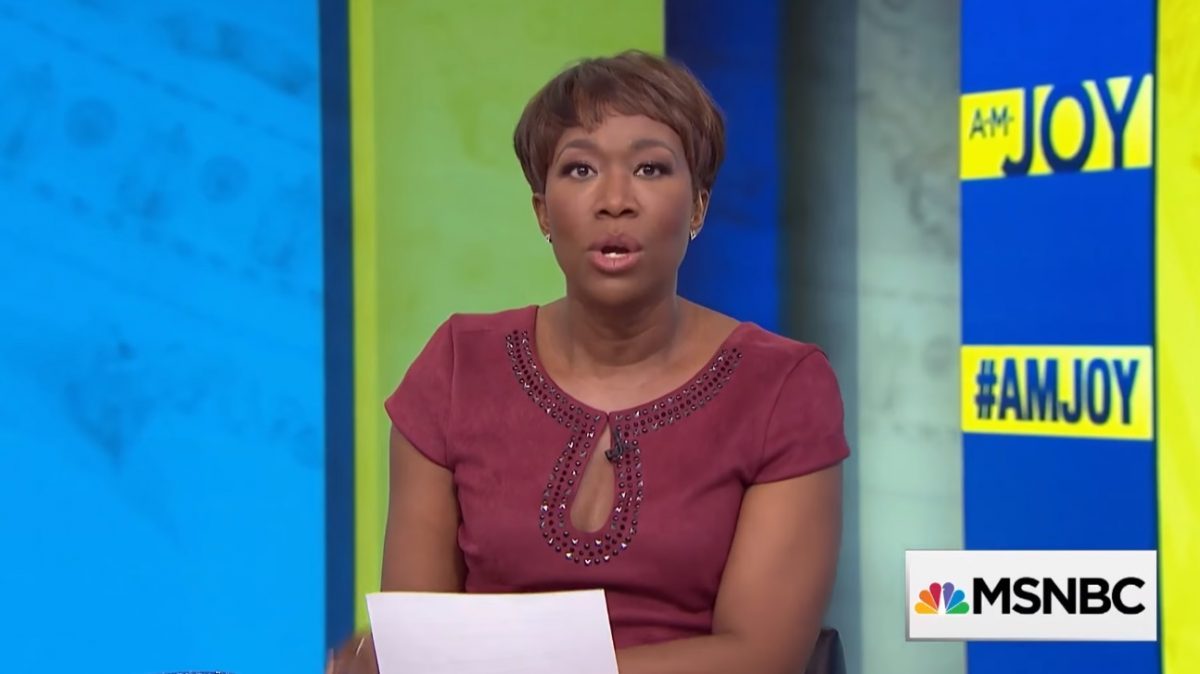 MSNBC host Joy Reid issued a statement on Friday responding to a report that unearthed of more embarrassing posts from her old blog.
Buzzfeed reported this week that in a 2006 blog post, Reid touted a 9/11 conspiracy documentary pinning the attacks on the U.S. government, produced by none other than InfoWars's Alex Jones:
A March 22, 2006, post to her weblog, Reidblog, archived by the Wayback Machine and titled "The official story," links to Loose Change 9/11, a viral 80-minute web video originally released in 2005. Loose Change, which was produced in part by Infowars' Alex Jones, alleged that the terrorist attacks on the World Trade Center were in fact planned by the US government. The central claims in Loose Change have been widely debunked.
In another post, Reid photoshopped Sen. John McCain's head onto the body of the Virginia Tech school shooter.
When Mediaite first reported on a number of homophobic posts from Reid's old blog last month, the liberal pundit claimed she was hacked. Those claims didn't hold up to much scrutiny.
Reid has maintained silence on the blog posts since she addressed them on her show last month. In an episode of AM Joy, Reid apologized for her posts, and said that while she has no evidence she was hacked, she "truly believed" that she had not written them.
Her first response since, obtained by Mediaite, is a statement in which she apologizes to the McCain family, and makes clear she believes Al Qaeda was responsible for the 9/11 attacks.
(No mention of the alleged FBI investigation into the nefarious hacker, curiously.)
Read the full statement here:
While I published my blog, starting in 2005, I wrote thousands of posts in real time on the issues of the day. There are things I deeply regret and am embarrassed by, things I would have said differently and issues where my position has changed. Today I'm sincerely apologizing again.

I'm sorry for the collateral damage and pain this is causing individuals and communities caught in the crossfire.

To be clear, I have the highest respect for Sen. McCain as a public servant and patriot and wish him and his family the best. I have reached out to Meghan McCain and will continue to do so. She is a former on-air colleague and I feel deeply for her and her family.

I've also spoken openly about my evolution on many issues and know that I'm a better person today than I was over a decade ago. I am the daughter of immigrants and have worked to be a strong ally of these communities. There is no question in my mind that Al Qaeda perpetrated the 9/11 attacks or about Israel's right to its sovereignty.

I believe the totality of my work attests to my ideals and I continue to grow every day.
UPDATE 2:04 p.m. EST: MSNBC, which has deferred questions about Reid's blog, has also issued a statement to Mediaite:
Some of the things written by Joy on her old blog are obviously hateful and hurtful. They are not reflective of the colleague and friend we have known at MSNBC for the past seven years. Joy has apologized publicly and privately and said she has grown and evolved in the many years since, and we know this to be true.
Have a tip we should know? tips@mediaite.com
Aidan McLaughlin - Editor in Chief