Karl Rove: President Obama's Recent 'Off The Prompter' Remarks Point To His Exhaustion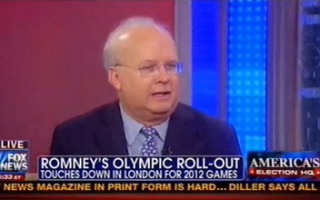 Former Deputy Chief of Staff Karl Rove stopped by Fox & Friends' curvy couch Thursday morning, where he gave a wide-ranging interview touching upon several topics, including Mitt Romney's trip to Europe, President Barack Obama's "you didn't build it" comment regarding small businesses, and Dianne Feinstein's recent remarks regarding the White House's possible role in recent leaks.
Rove felt Romney's trip abroad will help him look "presidential," and also offers him an opportunity to appeal to Polish-American voters, particularly in light of the President's "Polish death camp" comment regarding Nazi occupation.
RELATED: Dueling Gaffes: Obama's 'Polish Death Camps' Versus Romney's 'Amercia'
Later, Rove noted that the President's much-discussed "you didn't build it" comment constitutes "hostility to private enterprise and it's actually not true." He pointed specifically to companies' roles in developing the internet.
"My theory is he's exhausted," said Rove. "That they've had 183 fundraisers since last April, he's got a day job. That's more fundraisers than all of his previous four predecessors combined. And they're already had them on the campaign trail starting last fall, and he's the President and so all the defenses that he might have to say, well, before I say that comment, let me just sort of process that for a moment…"
Plus, Doocy interjected, he's "off the prompter."
Later, Rove echoed other Republicans who feel Dianne Feinstein was "Cory Bookered" for her comments regarding national security leaks possibly coming directly from the White House. "The White House has a reputation for being fast with the phone calls to complain about people who seem to be getting out of line," he said.
Kilmeade asked whether Romney took a misstep by criticizing Obama in front of veterans. Rove said no, adding that he touched upon several topics during his speech, but that the media focused on his Obama critiques.
Have a look, via Fox News:
Have a tip we should know? tips@mediaite.com