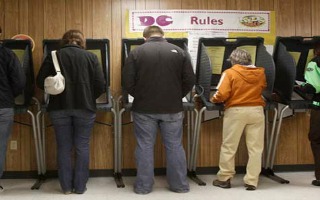 A new Gallup poll shows that Americans are not enthusiastic about the 2012 presidential election as they were about the 2004 or 2008 elections. However, more Republicans are enthusiastic about the prospect of voting in November than Democrats. Gallup found that Democratic enthusiasm has dropped significantly since they last measured voter enthusiasm in February.

RELATED: Gallup Poll: Americans Still Blame Bush More Than Obama For Economic Woes
Only 39 percent of Democrats and Democrat-leaning independents are enthusiastic about voting in November – down from 45 percent in February. 51 percent of Republicans or GOP-leaning independent voters are enthusiastic about voting, which is also slightly down from 53 percent in February.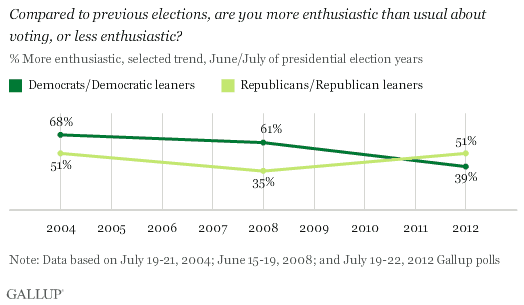 In 2008, Republican enthusiasm was just 35 percent while 61 percent of Democrats were enthusiastic about voting. Gallup's final poll in 2010 that measured voter enthusiasm showed that 63 percent or Republicans were enthusiastic about voting compared to 44 percent of Democrats — that gap produced a wave election in favor of Republicans that handed them control of the House of Representatives.
But while enthusiasm was predictive in 2010 and 2008, it was not especially helpful in determining the outcome of the election in 2004. Then, 68 percent of Democrats were engaged and enthusiastic compared to just 51 percent of Republicans. President George W. Bush ended up defeating Democratic Massachusetts Sen. John Kerry with 51 to 48 percent of the vote.
Overall, Americans are less enthusiastic about the 2012 race than they were about either the 2008 or 2004 elections at this point in the cycle. Today, only 44 percent of adults are enthusiastic about voting compared to 48 percent in 2008 and 59 percent in 2004.
h/t Gallup
> >Follow Noah Rothman (@Noah_C_Rothman) on Twitter
Have a tip we should know? tips@mediaite.com