Rove Says NSA Less Intrusive Than Local Cops: 'Can't Turn On A Cop Drama' Without Seeing A Phone Traced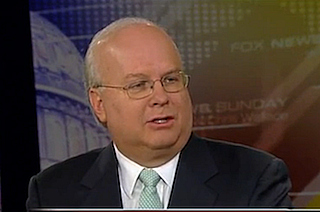 Republican strategist Karl Rove was pressed by Fox News Sunday host Chris Wallace to answer charges from members of his own party—including Jim Sensenbrenner, co-author of the Patriot Act—that the NSA surveillance programs are overly invasive.
"You gotta be consistent," Rove said. "If you don't like this program, which we now know was accessed 300 times last year, then you've gotta be against local law enforcement being able to access routinely business records of the telephone company in their local investigations as well."
Rove illustrated the widespread use of local law enforcement techniques via television shows: "You cannot turn on a cop drama on television where there is not someone who is pinging somebody's cell phone, or taking a look at the phone calls made on some land line or telephone booth to help solve some crime on television," he said.
But Rove actually thinks that the NSA programs are more restrained than what local law enforcement is capable of:
"The difference is apparently this program holds on to these records for five years—we don't know how long each individual phone company may keep its records available to local law enforcement. And this one requires a warrant to be able to search the record of any American. You can monitor the foreign communications without a warrant but in order to then search this database you have to have a warrant issued by one of these FISA court judges. That's not what happens routinely with local law enforcement which can just simply get the local phone company to run a trace on a phone."
"How many times have we sent the police to that hotel on Route 1 because we searched that phone record?" Rove finished, causing a moment of confused silence.
"Would you have been in that hotel on Route 1?" Wallace asked. "I'm a little concerned."
Watch the segment here:
[h/t Raw Story]
—
>> Follow Evan McMurry (@evanmcmurry) on Twitter
Have a tip we should know? tips@mediaite.com