King of All Talk Shows: 30 Minutes of Howard Stern the Perfect Replacement for Letterman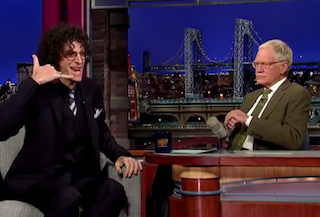 Listening to all the scuttlebutt around David Letterman's possible replacement has provided some quality unintentional comedy on an otherwise dreary Manhattan Friday.
"Craig Ferguson is Dave's heir apparent and…"
Try beating Seth Myers at 12:30 first before getting a promotion.
"Tina Fey is rumored to replace…"
Nope. She's not about to go up against her friend Jimmy Fallon only to lose convincingly in the process.
"Stephen Colbert would be a great…"
No he wouldn't. Comedy Central is fine and serves Colbert well. But at 11:30 PM on a big-boy network interviewing (insert celebrity here) about his/her next movie while in character? It just doesn't work.
"Conan O'Brien could make a comeback by…"
Kidding, right? As if CBS would ever take NBC's sloppy seconds.
"Chelsea Handler is a free agent and…"
And nothing. E! almost seemed relieved to be free of her when her contract quietly expired last month. Loyal audience, but a small one. Handler's candid shtick and CBS—the least provocative network out there—simply wouldn't mesh.
In the end, there are only three viable options for CBS:
(1) Ellen DeGeneres, who killed it at the Oscar's, owns a large, loyal following from her daytime syndicated show and would obviously offer something different by not being another middle-aged guy hosting a talk show.
(2) Jon Stewart, who has been courted by the networks for years and would certainly stand out from Fallon and Kimmel simply by bringing his Comedy Central show and staff along with him.
Or…
(3) Howard Stern, who is easily — easily — the best interviewer in the business right now. Nobody can get a subject to open up with such candor quite like Stern can. And as we've seen on NBC's America's Got Talent—Howard knows how to play nice while still being enormously effective on network television.
Having said that, the 60-year-old King of All Media is my undisputed choice for Letterman's spot if winning that time slot is truly the goal, which he absolutely will. Resume: Best-selling book, critically-acclaimed movie (Private Parts) and building Sirius into the juggernaut it has become (the company goes bankrupt otherwise without The Howard Stern Show) proves there's no medium, no mountain Howard can't conquer. Sure, he's very close with Jimmy Kimmel, but who says that means anything? Plenty of good friends compete against each other in this business. And both would be earning millions to do so.
But if CBS really wants to maximize its ROI (return on investment), it should make the pragmatic move of shortening The Late Show with Howard Stern to 30 minutes. Know this: Howard isn't about to do monologues. Nor is he going to do the kind of sketch comedy Fallon has already perfected. Instead, Howard's 30 minutes should be dedicated to 1-2 big interviews per night. And when it's over at midnight, CBS should offer up the top-rated syndicated comedy repeat out there (currently Modern Family). Benefit: Syndicated shows are much less expensive to any network and can provide ratings that are on-par or even above much-more-expensive-to-produce shows, including those in the late night realm.
As far as any contractual issue with Stern's current home at Sirius, that—like Letterman's–expires in 2015. Howard—who lost a bitter court battle with Sirius over hundreds of millions in stock options—has already stated he's done with the company once his contract expires.
As for Letterman and CBS, they couldn't be handling this any better from a moneymaking swan-song perspective. By announcing a year or so in advance, Dave will get a ratings bump from those feeling nostalgic while he's still on the air. And as the final days count down, he'll win his timeslot for those wanting one more taste of a Top 10 list or stupid pet trick. It mirrors the Yankees and Derek Jeter—who will get at least a 162-game goodbye complete with millions in merchandise and tickets to be sold for an entire season in the process.
At 68 in 2015, Letterman retires two years old than Carson did over two decades ago.
His replacement will have big shoes to fill.
But it doesn't have to be a 60 minute replacement.
Will 30 minutes of Stern–followed by solid syndication–the Tiffany Network will be beating ABC and NBC on two fronts:
The monster ratings Howard will provide.
And the monster profits from syndication when the clock strikes midnight.
— —
>> Follow Joe Concha on Twitter @ConchaMedia
Have a tip we should know? tips@mediaite.com