Krauthammer To Hannity: Obama Okay With Sequester So GOP Gets Blamed And 'Caves' On Taxes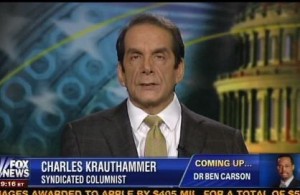 Tonight Charles Krauthammer sat down with Sean Hannity to share his theory on why despite President Obama's frequent public condemnations of the sequestration that goes into effect today, the whole thing was in fact his idea in the first place. Hannity and Krauthammer opened by mocking the apocalyptic warnings over sequestration before piling on Obama for coming up with it in the first place.
Krauthammer argued that Obama has never had any interest in cutting spending or reducing deficits, suggesting that sequestration is part of the president's "larger agenda" to change America into a liberal entitlement "European-style" state. He said that the only obstacle that Obama has ever had to overcome was the Republican-controlled House, and in order to get done what he really wants to get done, he needs to "neutralize," "marginalize," and "fracture" the GOP on the spending issue.
RELATED: Krauthammer To O'Reilly: Obama Wants U.S. To Be European-Style Social Democracy, But Won't Admit It
Krauthammer predicted that when Americans start to feel the brunt of the spending cuts, the media will portray it as "Republican cuts" and his opposition will "come crawling and cave on taxes and spending." Hannity agreed with Krauthammer, but said it is far more malicious than that, since Obama is most interested in cutting spending in the most essential parts of the economy for the sake of making a political point.
Hannity then brought up the current feud between the White House and Bob Woodward, asking Krauthammer about how Obama has denied the cuts were his idea in the first place. Krauthammer said Obama could have easily asked for the authority to allocate the funds to places where the American people wouldn't feel it as much, but
Watch the video below, courtesy of Fox News:
—–
Follow Josh Feldman on Twitter: @feldmaniac
Have a tip we should know? tips@mediaite.com
Josh Feldman - Senior Editor