Laura Ingraham, Fox & Friends Hosts Wonder If Feds Behind Hacking Of Sharyl Attkisson's Computer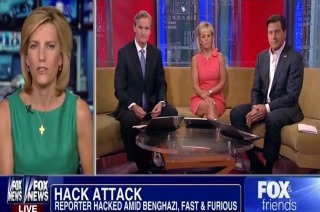 An internal investigation recently revealed that CBS News investigative reporter Sharyl Attkisson's personal and work computers were hacked in a "sophisticated" way during the period in which she was pursuing stories critical of President Barack Obama's administration. On Tuesday, the hosts of Fox & Friends and conservative radio host Laura Ingraham speculated on whether members of the Obama administration could be behind that hacking incident.

The Fox & Friends hosts played a clip of Attkisson on Fox News Channel on Monday night saying that she believes she knows who is behind the hacking of her computers.
Eric Bolling said that the hacking occurred at a time when Attkisson was investigating controversial stories like the Fast and Furious "gun-walking" scandal and the botched response to the Benghazi attacks.
RELATED: CBS' Sharyl Attkisson Opens Up About Hacking To O'Reilly, Says 'I Think I Know' Who Did It
Ingraham noted that Atkinson had told her in 2011 that Obama administration officials "yelled" at her over her reporting on Fast and Furious.
"She has been absolutely dogged in her pursuit of the truth without political bias, without an agenda, and we're finding that that's one of the most dangerous individuals to this administration – someone who really wants to get at the truth," Ingraham said.
Gretchen Carlson said that she was not clear if the Justice Department had gone to a court to get a warrant to search Attkisson's computers as they did for Fox News reporter James Rosen.
"But let's say they didn't," Carlson said. "So, if, in fact, somebody went into her computers without some kind of warrant, that's worse, isn't it?"
"That could be a federal hacking charge," Ingraham replied. "I hope CBS is taking this seriously because, if that happened the way she described it, this could be – you know, just add that to the list of scandals."
"And if there was a court order that is unknown to all of us right now, she was Rosen'd before James Rosen," observed Steve Doocy.
Watch the clip below via Fox News Channel:
> >Follow Noah Rothman (@NoahCRothman) on Twitter
Have a tip we should know? tips@mediaite.com